I learned this sketchy rappel technique, where else, but in France, although in all fairness, it was a Swede who showed it to me.  The idea is that with nothing more than a length of rope, you can set up a rappel in the middle of a snowfield, then after you've rappel, you can pull on the other end of the rope and get the anchor to release.  The advantage of this is that you don't need to find a tree, picket or anything else for an anchor.  The disadvantage is that it is NOT a super reliable rappel anchor and at times it can have trouble releasing if you bury your skis too deep.  Still, when it works it is pretty cool.
I've only set this up once and found that it works well in a pinch when you want a little extra security on a slope that might be a dangerous down-climb.  It is not the rappel of choice for a high-stakes, free-hanging rappel! 
This technique is a variation on a self retrieving ice axe rappel, which substitutes axes for skis.  A key part of this rappelling technique is to have holes in your ski tips, as you need to pass the rope through them.  (Yet another reason to have holes in your tips…)
Step One – Dig a trench one ski width wide with a shallow pocket in the back.
Step Two – Lay one ski horizontally in the trench, then stuff the other ski vertically in behind it.  Make sure the skis are base-to-base and the horizontal ski has its tip pointing downhill.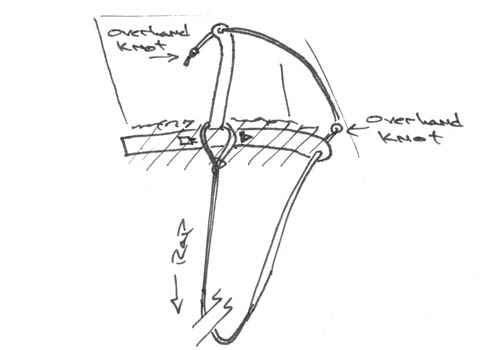 Using a bowline, tie a loop around the upright ski, then pass the other end of the rope through the horizontal ski, tie an overhand knot,  add in about six feet of slack, pass the rope through the ski tip of the vertical ski and tie another overhand knot.
Step Three – Rappel very gently, making sure not to pull on the uphill side of the rope.
Step Four – When you reach the bottom of the rope loop, auger in and pull the other end of the rope.  Hopefully this will get the horizontal ski to pop loose from its bed and come out.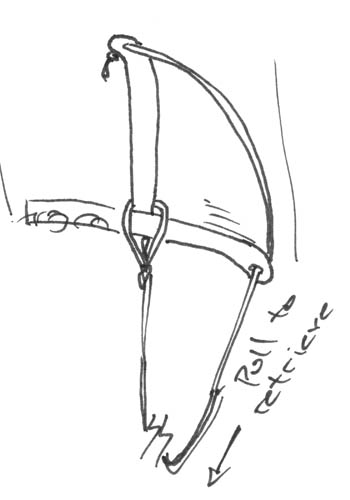 Step Five – Keep pulling.  Hopefully the horizontal ski will pop loose, followed by the vertical ski.  If this works, heads up!  A mess of rope and skis will come tumbling down.  If it doesn't work… bummer.  You might have to climb back up and rerig it, but now your anchor is perhaps compromised.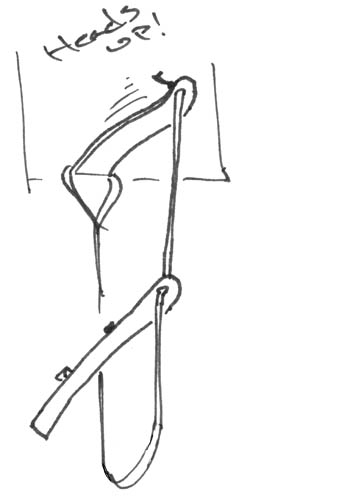 If it works, don't tell your Mom about it – it will only make her worry.
 ________________________________
Help support StraightChuter.com and rap ready Beal Rando 30 Rope from Backcountry.com! Click on the photo below…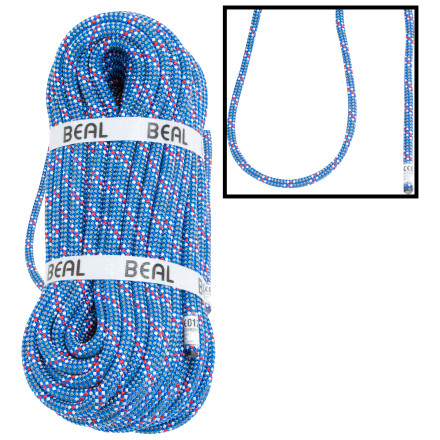 Category: 06 Downhill, Tips & Technique