Cornices often present a backcountry conundrum – is it safer to stomp them and risk going for a ride when they break behind your feet, or is it better to not stomp them and thus give up a valuable piece of avalanche insight?  I'm firmly in the pro stomping category and while most of the time I chose small, manageable ones, occasionally I'll want a rope for extra protection.  This in itself presents a problem because to do it by the book, you should probably have a dynamic rope, multiple anchors a harness and belay device, all of which take time and effort to set up, so they are almost always skipped. Because of this, I use a hybrid system that may not pass muster with the Safety Police, but it is so quick and lightweight that I end up using it quite a bit.
Here is a video showing the basic set up:
All you need for this is a 50+ foot chunk of rope and a locking carabiner.  The rope is tied directly to an anchor (trees or rocks are ideal) and then wrapped/tied around your waist as an impromptu harness. The locking carabiner is used as a Munter Hitch belay device to adjust the amount of slack.  To set this system up, you'll need to know two knots:
The Munter Hitch

Double Bowline (with a keeper knot – not shown)

A key concept with this system is to keep all slack out of the system as it is not meant for dynamic loading, like a big whipper of a leader fall. Ideally, you would snug the rope up and then start gently working your way towards the lip as you stomp.  If the cornice does break unexpectedly, the rope is there to help brace you.
With practice and the right anchors, this system just takes a few minutes to set up and use. If there are no anchors, or your rope is too short, the cornice too big or something else, just move on and find somewhere else to ski.
As always, be sure to check out the area below the cornice for other skiers and try to conserve a few cornices for other parties. Also, both the double bowline and Munter hitch can be tricky to tie, so practice first in a safe spot and give your system a good hard test yank before getting too close to the edge.
________________________________
Help support StraightChuter.com and Munter up with a Black Diamond VaporLock Screwgate Carabiner from Backcountry.com. Click on the photo below…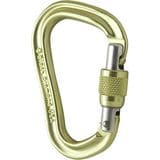 Category: 07 Avalanche Avoidance