Deadbolt may be the "Scariest Band in the World" but they are nothing compared to this set of skis…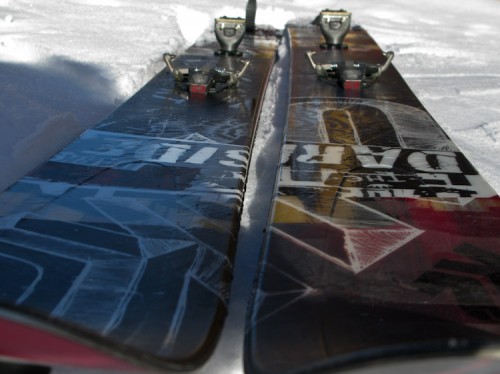 181cm K2 Darksides with Dynafit Titanium TLT bindings. Rockered to the gills, 156 / 128 / 144mm, no brakes, leashes or fore/aft adjustment in the heelpiece.  These skis must be approached from behind, spoken to in a calm voice and treated with respect.  No Dynafit rolling starts.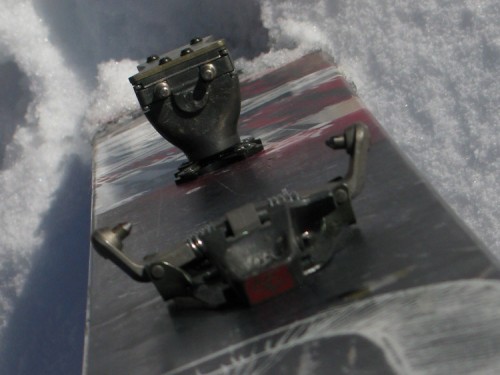 I originally just used these bindings for racing as they have no fore/aft adjustment (fixed boot size) and only tour in one height.  They had been languishing in my basement and seemed like a perfect compliment to the skis. On these skis they look more like an avalanche island of safety than a bindings  – something you could barely hide behind.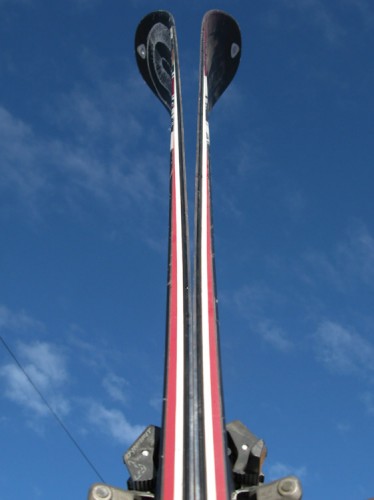 If I didn't know better, I'd think these skis were bent, but no, they just have a lot of rocker.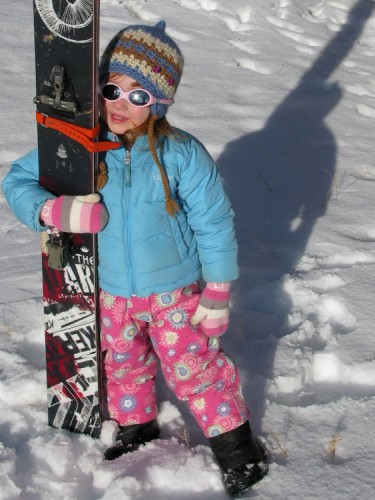 A small child in danger of being crushed by skis.
I got these thinking they might be the ultimate Wasatch quiver ski for phat pow days/daze, but after mounting them up and weighing them with the custom fit K2 skins, the whole package only comes in at a svelte 12 pounds, which is only 2 pounds heavier than my main set-up (167cm Waybacks, ST Verticals, Ascension skins), so I might be using them more than I think.
Details to follow as soon as I get a chance to take them out.
________________________________
Help support StraightChuter.com and fear no evil with a pair of K2 DarkSide Alpine Skis from Backcountry.com. Click on the photo below…
Category: Gear Reviews