The people of the backcountry will now hear the case of Rush v. Maestrale.  Please be seated.
I don't think I toured a single day last year in anything but Scarpa Maestrale boots.  For resorts, I have a pair of Scarpa Mobe boots, but I have yet to brave any touring with them.  I come from a long line of Scarpa boots dating all the way back to the leather Tele Savauge (yes, tele…) and have been very happy with the Lazer/Matrix/Spirit line of three buckle boots.  My first impression of the Maestrale was dismay as it was a four buckle boot – gasp – but it turned out to be lighter and toured better than the Spirit 3 it replaced, so I never looked back.  But still, I secretly yearned for a three buckle boot as I seldom if ever adjust the toe buckle on a 4 buckle boot, so it is kind of vestigial and needs to be dropped.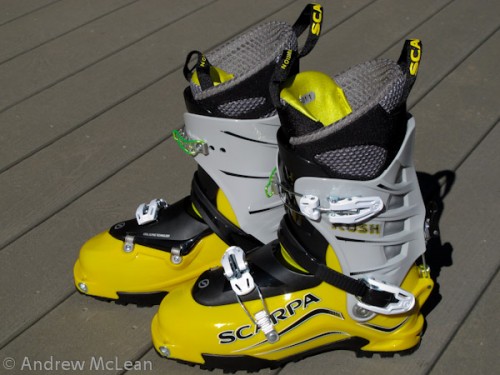 My prayers were answered this year with the Scarpa Rush.  The Executive Summary is that it is a 3 buckle version of the Maestrale, which makes it a bit lighter.  I have yet to actually ski it, but in flex tests and on carpet tours, it feels very much the same as a Maestrale.  Why would you get this boot over the Maestrale?  It is a little lighter (85 grams/3 oz), a little simpler (3 vs. 4 buckles) and a little less expensive ($549 vs. $599).  Dropping the toe buckle means that the toe profile is a bit cleaner, which is nice for booting and/or technical climbing as it is less cluttered. The bright yellow doesn't match my eyes as well as the Day-glow orange Maestrales, but I can live with that.
Both boots have Intuition liners, tech fittings, Vibram soles, etc, etc..  For either boot, I use SuperFeet or FootBalance insoles, get the liners molded with lots of extra room in the toes for warmth and remove the power strap.  Aside from that they are 100% stock – no grinding, punching, tongue swaps, carbon cuffs or drill holes.

________________________________
Help support StraightChuter.com and speed up your stride with a pair of Scarpa Rush Alpine Touring Boots from Backcountry.com. Click on the photo below…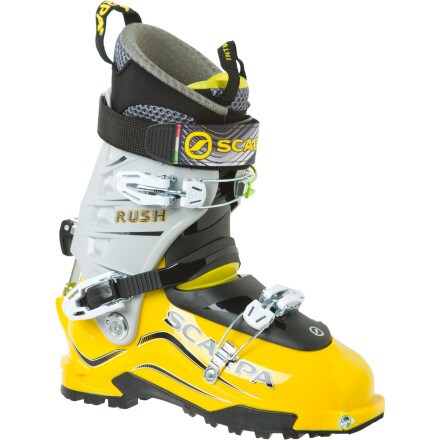 Category: Gear Reviews