This was my second trip out to the Ruby Mountains in Nevada and it made me wonder why I don't get out there more often.  It is about a 3.5 hour drive from SLC and the range itself is quite a bit like the Wasatch, except I think it has more steep skiing potential.  Like the Wasatch, the Rubies are a desert mountain range, so light, dry snow is the norm and there seems to be quite a bit of it.
The Rubies are located just outside of Elko, Nevada, which started life as a railroad town, then turned to ranching and mining.  Perhaps because of the ranching, Elko has a strong Basque culture (sheep herders) which is reflected in the many Basque restaurants that specialize in "family style" dining, a euphemism for more meat than you could possibly eat. The Ruby Mountains were named after the garnets that were found in the area.
While the mountains themselves are flawless, the man-made restrictions on them are not.  The range runs north/south for about 80 miles and is roughly ten miles wide, so it is long and skinny.  Most of the range is surrounded by private property, so access is severely restricted.  The main public trailhead, Lamoille Canyon, pierces the mountain range at about mid point on the west side and goes in roughly seven miles before hitting the north/south ridgeline which forms the Ruby Crest Trail which is the Wilderness boundary dividing line. As a multi-use area, snowmobiles, helicopters and ATV's are allowed on the west side of the range, which in itself is fine.  The problem from a backcountry skier's perspective is that because there is only one main trailhead, all of the use multi-use takes place in that concentrated area instead of being spread throughout the range.  Two-stroke is the language of choice in the Rubies and human powered activities are outnumbered by 10:1 from what I have seen.  I've had good luck bringing a rope and getting a tow in on the main road from the sledders, and if not, there is plenty of good skiing (including the super classic "Terminal Cancer") within a short distance from the trailhead.
For more photos and comments, please see the Ruby photo gallery on the "PHOTOS" tab.
________________________________
Help support StraightChuter.com and glow like Noah in a Mountain Hardwear Dragon Softshell Jacket from Backcountry.com. Click on the photo below…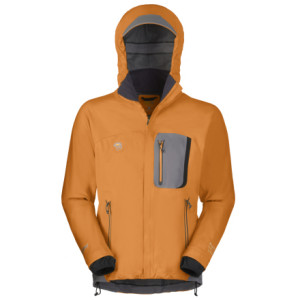 Category: Trip Reports