This was one of the funnest non-skiing trips I've ever been on and is an instant Wilderness adventure classic.  Named "The River of Return" as it starts and finishes at the same spot in the Frank Church – River of No Return Wilderness area, this trip was the brainchild of Forrest McCarthy from Jackson Hole. A topo map showing the entire route is a bit confusing, so I'll try a sketch: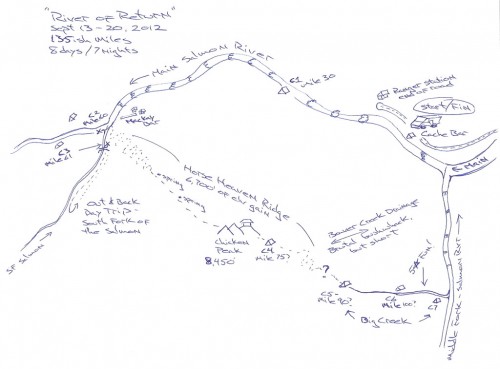 What made this trip cool was that it involved 135+ miles of self-supported whitewater boating (up to Class IV-), an amazing hike along a well maintained ridgeline trail (complete with high-altitiude springs), some adventure bushwhacking, shallow water boating, a phenomenal creeky stretch of boating, some big water and excellent campsites all along the way. The company was also excellent and the trip was made possible by using lightweight Alpacka boats which we deflated and carried over Horse Heaven Ridge.
I've put a web gallery of 70 of my favorite photos from the trip up here.
Forrest McCarthy put together this excellent little 8:20 minute video:
Mike Curiak from Grand Junction, CO put up a trip report and video here:
http://lacemine29.blogspot.com/2012/10/the-river-of-return.html
I shot about 1,000 photos on this trip, but here are 15 favorites that give an overall idea of what it was all about…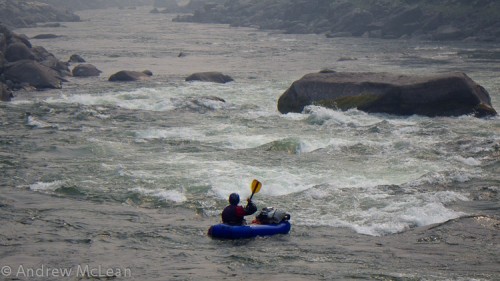 Welcome to the River of No Return!  Forrest McCarthy near the beginning of Day 1. There are endless rapids like this on the Main Salmon – not too bad and nothing really to hit if you flip, but with so many of them it helps to be able to move through them quickly.  We tied our packs to the bow deck of the boats.  Much of this area was engulfed in smoke from the nearby wildfires.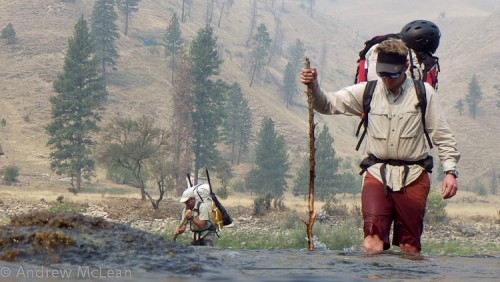 Moe Witschard and Jim Harris fording the lower South Fork of the Salmon River.  This is right at about where camp 2 & 3 were located, as well as the start of the Horse Heaven Trail.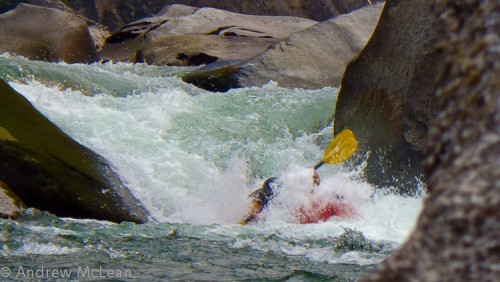 We did a roughly six mile out and back trip on the South Fork of the Salmon just because we were right there and it was such a beautiful river.  If you wanted to trim a day off of the overall trip you could skip this, but it is well worthwhile.  Moe Witschard getting buried after a small drop.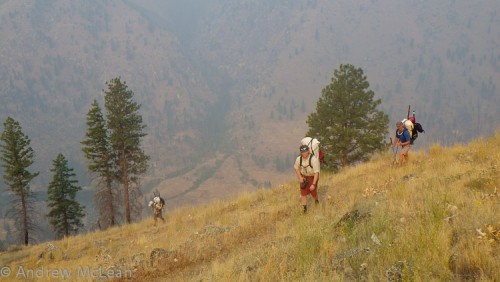 Heading up the lower zigzags of the Horse Heaven Ridge trail.  This trail is heavily used by horses and hunters, so it is very well maintained and easy to follow.  It also has a series of springs along the ridgeline so you are never more than about five miles away from water.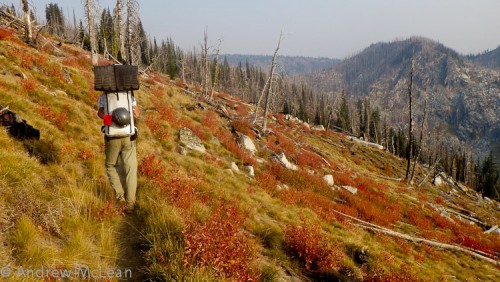 Tom Turiano motoring along the Horse Heaven trail.  We ended up hiking for about 2.5 days out of the entire trip.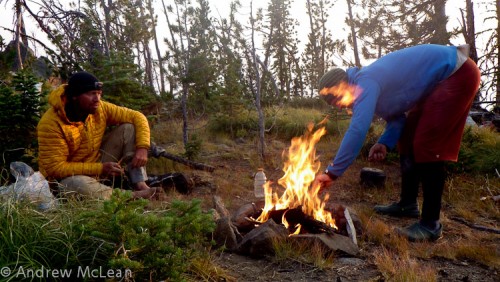 Camping up high near Chicken Peak.  This was one of the colder nights we had, especially as many of us brought 30 degree plus sleeping bags.  There was plenty of firewood for cooking along the entire route.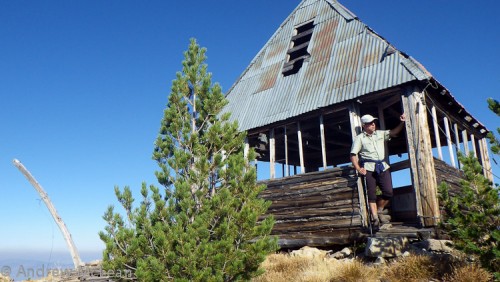 The old fire lookout on Chicken Peak.  Nice view…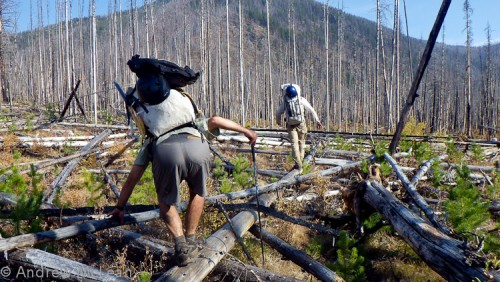 After turning off of the Horse Heaven trail and heading down Beaver Basin, the trail evaporated and we had a grim half-day bushwhacking session. Once we got down into the drainage, there were so many downed trees on top of a boggy swamp that it was often easier to just try to walk over them.

This was right after Camp 5 and is near the beginning of Big Creek.  The water was far too shallow to boat, but luckily there was a beautiful trail right along side it.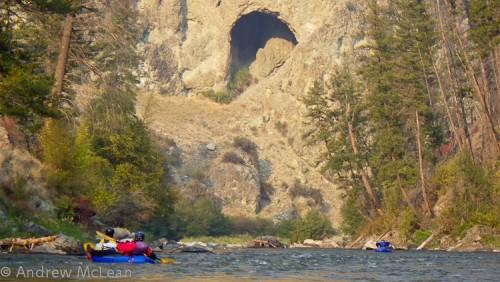 The beautiful scenery of upper Big Creek hides the fact that it was only about 6-12″ deep and pretty tough/slow boating. It probably would have been faster to walk this section, especially with a trail following the river, but boating was more fun.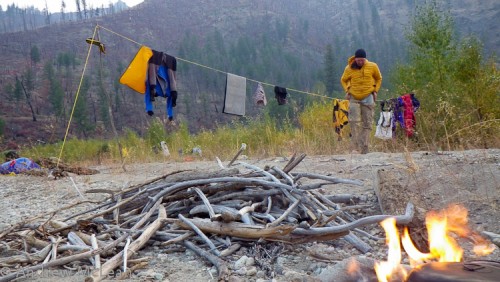 There was fantastic, easy to find camping all along the route. This one is on Big Creek.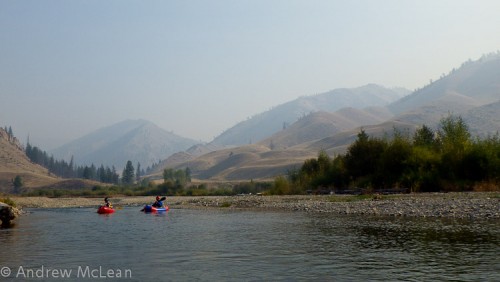 Working our way down Big Creek somewhere near the confluence with Cabin Creek.  This area reminded me of the terrain around Sun Valley.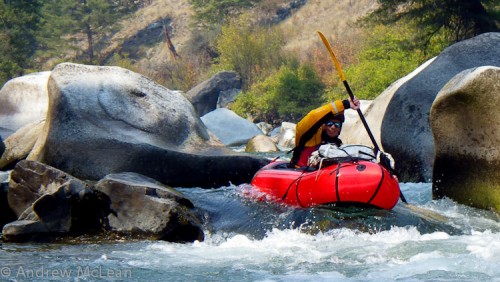 Lower Big Creek.  I think this was unanimously voted as the best section of boating on the entire trip as it was miles of fun, challenging creeking that could all be scouted from the boat.  Jim Harris works his way through some boulders.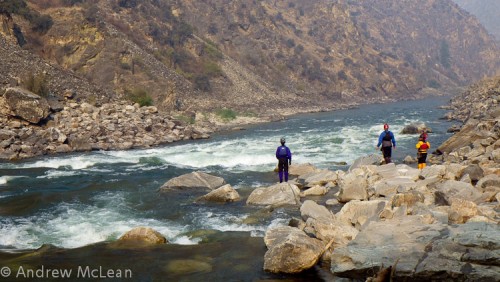 Big Creek flowed into the Middle Fork of the Salmon for yet another stretch of excellent boating.  After that, the Middle Fork joined back up with the Main.  This is the Cain Creek rapid on the Main, which was the last of many, many rapids before we came back full circle to our cars.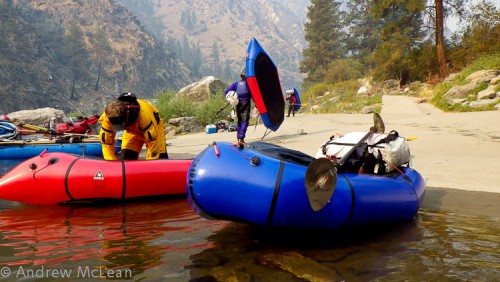 Shazaam!  Eight days later, right back where we started from.
We did this trip from Sept 13-20 in mid to low water levels for that time of year.  High water would make the Salmon River sections much sportier in the little boats, as well as making the upper part of Big Creek easier, while the lower part of Big Creek would be quite rowdy.  In lower water, the main problem would be the upper part of Big Creek, which would probably be better to just hike.
Once again, a big thanks goes out to Forrest McCarthy who gets the Golden Navigator for piecing the trip together and arranging all of the logistics.  Speaking of which, you need to get a permit for the Main, which is easier to do in late September after the lottery is over.
Even though it is a long, committing trip, there were quite a few potential rescue points (air strips and hunting lodges) along the way. In general, the big water sections went faster than expected (25-30 miles per day) and the hiking was a bit slower.  In the end, it all evened out.
________________________________
Help support StraightChuter.com and float in bliss with a Kokatat Gore-Tex Expedition Dry Suit from Backcountry.com. Click on the photo below…

Category: Packrafting, Trip Reports