Well damn.  Sad news today from Jackson Hole today that Steve Romeo and Chris Onufer were buried and died in an avalanche somewhere in the Grand Teton National Park.  I didn't know Chris, but had spent quite a bit of time with Steve and my thoughts go out to both their families and friends.
I first met Steve during the early stages of Rando racing in North America when you could still do well just by having a good touring base and the a pair of Dynafit bindings.  This is also where I think I first met Grant Guise, who has gone on to become Mr. Dynafit in New Zealand.  Since Grant is/was a Kiwi and I'd always wanted to ski in New Zealand, we put together a trip and Chris Figenshau came along to round out the group.
It's hard to have a trip to NZ without coming back with lots of funny experiences, and this trip was no exception.  Here are a few of my favorites.
Teton Style
After waiting out many days of bad weather, we finally had a short enough break to go out and ski a little mini golf line across the valley.  At the trailhead we debated the virtues of walking in with running shoes, then stashing them and switching over to ski boots once we hit the snow.  Steve would have none of it and insisted on going "Teton Style" which meant hiking the whole way there, up, down and back again in your ski boots. I decided to give it a try and remember bickering with him about it the entire way as my feet were killing me on the flat two mile approach.  I never did it again, but Steve held strong to Teton Style and I don't think he ever did it any other way, including monster approaches in the Tetons.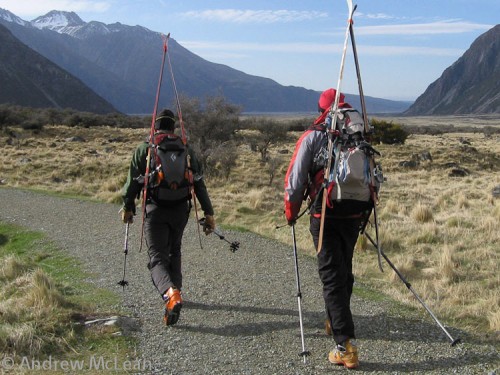 Steve (left) and Figs doing it Teton Style.
Grounds for Rounds
I think this was on the same outing as mentioned above…  We had grown tired of waiting for the weather to clear and decided to ski a scrunty little couloir just for the exercise.  About halfway up we had to scramble over a rock band, and of course just as we were delicately padding our way along, a sluff avalanche came down from above.  It missed me completely, but from what I remember it caught Steve (Grant?  Figs?) with enough force to knock them off the rock.  We retreated and I didn't think much more of it.
After a day or so of more bad weather (this is NZ after all), I had a chance to check my email and was shocked to see 10-15 messages from friends telling me how glad they were to hear that I was alive and okay. I wasn't sure what to make of it until we reconvened at a bar later that day and Chris Figenshau, who had had a similar experience, asked Steve what was going on.  Steve admitted that yes, he had sent an email out to a few friends, and that maybe, perhaps, one of those friends was an editor at the Jackson Hole Daily newspaper, and yes, he had put in phrases like "lucky to be alive."
Figs immediately declared this as a breech of etiquette with a "Grounds for Rounds" sentencing, meaning Steve had to buy a round of drinks for all of us.  I was thinking along the lines of a cheap Tui, but Figs led off with some $18 cocktail, so we all followed suit – even Steve, who then graciously paid and apologized.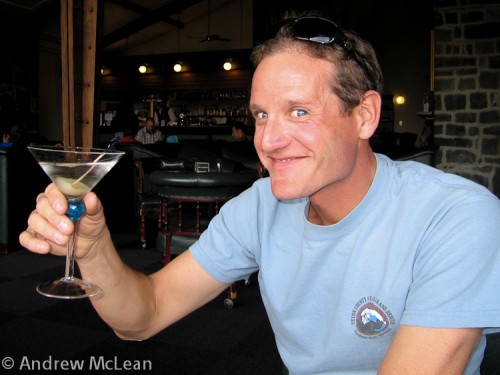 Steve getting into the spirit of "Grounds for Rounds."
The Tech Geek Guy
For most people, buzzwords like ProShell, ePIC, NeoShell, Mirco Clim and others are just a bunch of marketing BS, but for Steve, who worked in a gear shop, it was almost a religion.  He could tell you the difference between all of them and why each one was good in certain circumstances. It was fun to work him up into a selling frenzy by asking him to explain the technical aspects of things like a Buff headband, which he'd gladly do.
At the end of our trip we had a few clothing samples that nobody really understood, so we asked Steve to give us the  scoop on it.  He proceeded to give a flawless performance explaining vapor transfer, climate zone heating, breathablity, zipper details, pocket specs and of course, the fabric characteristics.  At the end of it we were all impressed and asked him if he wanted the jacket since he had given it such a glowing review, to which he replied "No.  I hate that shit."
Mountain High Meat Pie
Meat pies are to New Zealand as pizza pies are to Italy – they are everywhere, cheap and delicious (except the possum pie, which is revolting).  Before Steve fired up TetonAT.com he threw out the idea of starting a meat pie cart right at the base of the Jackson Hole tram, which we all thought was an excellent idea.
The working name was "Mountain High Meat Pie" and asking Steve about his business model provided endless entertainment. Won't that take away from your skiing time? "I'll hire someone to run it."  Ssshhh, employees?  "I'll hire illegal immigrants and if they don't work out I'll fire them."  What about ingredients? "Cheap beef from Albertsons, but I'll say its organic buffalo."  What if the enterprise doesn't work out?  "I'll dump it in the middle of Wyoming and say that it fell of my trailer hitch." He was kidding of course and it is better for all involved that he started up TetonAT instead.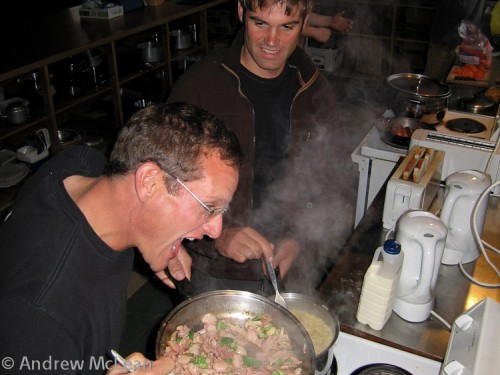 Sampling some organic, free-range, grass fed buffalo bits, aka bacon.

You are deeply missed Steve!  I hope there is a fast connection and an overstuffed sleeping bag waiting for you in heaven.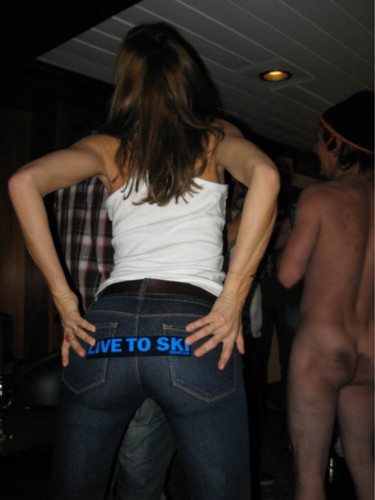 Category: Announcements