Trivia:
Inclinometers are used in aircraft to show magnetic dip or the angle from the horizon.
Clinometers are used by surveyors in order to measure an angle of inclination or elevation.
Goniometers are instruments that either measures angle or allows an object to be rotated to a precise angular position.
Regardless of what you use or what you call it, being able to measure slope angles is one of the best avalanche defenses available.  I've been skiing around for the last week in considerable, high and even extreme avalanche conditions without seeing or triggering any slides as I've been keeping my angles loooooow.  Like in the 20-30 degree range at the most.
For years my goniometer (I usually call it an inclinometer) of choice has been the classic Life-Link plastic card with a dingle-bob on it.  After a few seasons, the plastic breaks and you are left with a shard of plastic and a stuck dingle-bob.  Still, they were kind of cheap, lightweight and compact enough that you could whip it out, pull an angle and get on with life. With this in mind, I was overjoyed at the recent Outdoor Retail Show to see that Pieps had come out with a bitchin' new digital unit that mounts to your pole and also includes a thermometer.

Called the Goniometer PIEPS 30 Degrees Plus, this unit velcros to your pole shaft and is activated by pushing a button, which turns it on for 10 seconds.  The thing I really like about this is that it is always there and ready to go, so you take more measurements.  The more measurements you take, the better you get at reading slope angles.  The better you get at reading slope angles, the easier it is to make quick slope assessments.
I got a laugh out of the instructions (which I read this time) as they suggested you make a game out of taking angles by having everyone guess before you take the measurement.    I like doing this as it makes you realize if you are consistently over or under estimating angles, or in George W's case, misunderestimating them.  Guessing slope angles reminds me of mechanics who can tell a bolt size from across the room with a quick glance – it's not so much magic as repetition and familiarity.
At $100, this little Pieps ain't cheaps, but it is by far and away the best unit out there and fun to use.  You can get angles by setting the pole on the snow, sighting down the pole shaft from the top of a slope, or lining the pole up with a slope's skyline profile.
________________________________
Help support StraightChuter.com and strap your Pieps 30 Degrees Plus to a pair of Black Diamond Carbon Probe Ski Poles from Backcountry.com. Click on the photo below…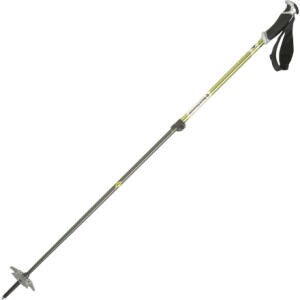 Category: Gear Reviews