One of the more unglamorous aspects of being a ski mountaineering guide is carrying all of the emergency gear which adds considerable weight to your pack which you hope you will never have to use. At the top of the list is an emergency sled, which is generally expensive dead weight. I've owned a variety of them and have yet to actually use them for their intended main purpose – hauling a person off of a slope.
On a recent trip to Alaska, I brought along a very basic sled as I wasn't sure if we'd need one for hauling gear, but afterwards, it occurred to me that it would also work as an emergency sled. As an added bonus, it is only $7.50 through Amazon.com and weighs 435 grams.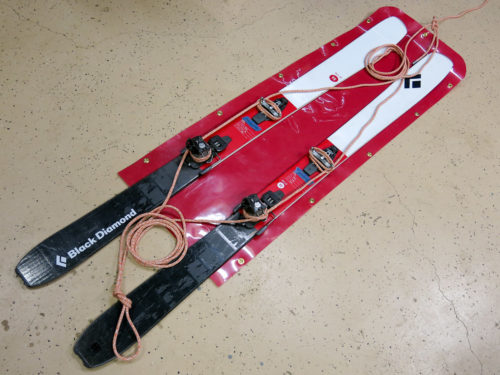 To rig the sled, first the tips are stuffed into the hand holes and then a long loop is tied off to the bindings, leaving a grab line for both the front and back of the sled.
Although this is called a sled and sold as a sled, it is really just a piece of tough plastic with a couple of holes cut in the tips. The holes are supposed to be for holding on while sledding, but they also accept ski tips very well.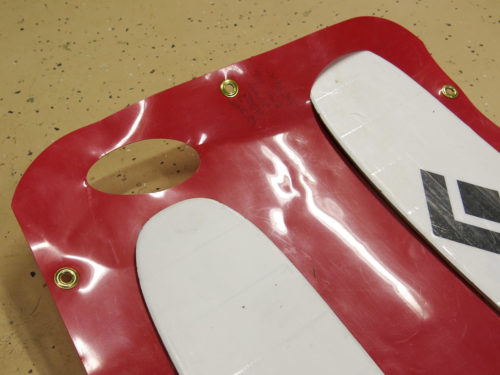 I modified the sled by adding brass grommets at both ends, plus a string of them along each side.  These allow things like bodies or bags to be tightly strapped burrito style  to the sled using a cordelette (20ish feet of 6mm accessory cord), which you will probably already have as part of a glacier kit.
For hauling, I clove hitch my glacier rope off to the bindings, which gives me a nice, strong attachment point.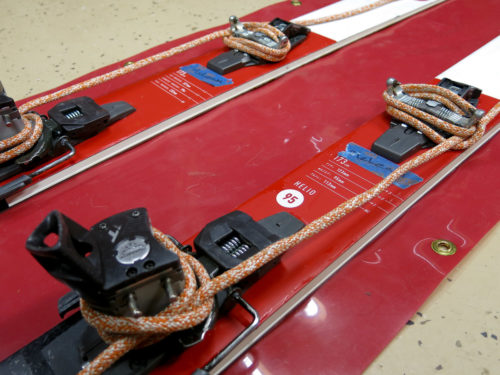 To actually load and haul a person, first the skis are set in place, then a pack is used for padding and then the whole thing is bundled up via the grommets with the accessory cord.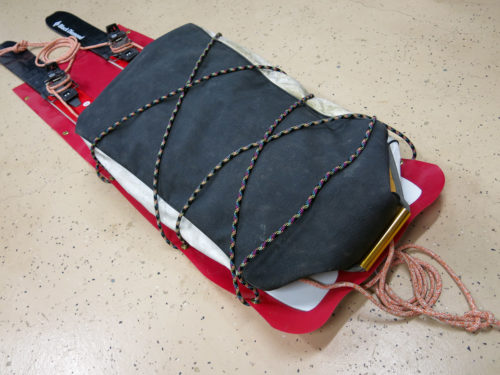 Although it is bigger and stiffer than an Alpine Threadworks or Brooks Range emergency sled, it can be slipped into a top-loader backpack as a "liner" where it takes up almost no room in the pack.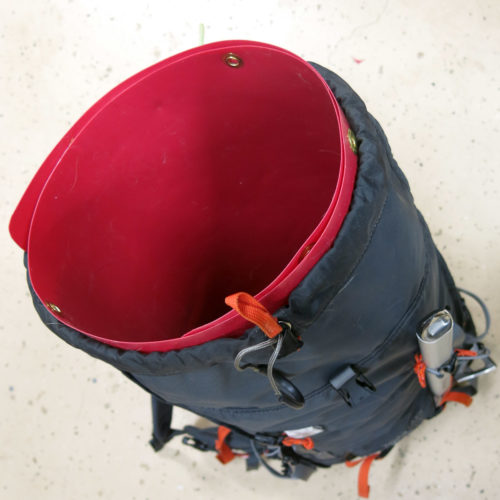 The sled is made out of some cross-linked polysomething material and is incredibly durable.  It can get completely crumpled, crushed and folded, but still bounce right back into a flat shape. As an added bonus, it can be used as a seat liner or underneath your sleeping bag to help keep it dry, or as a cutting board.
________________________________
Help support StraightChuter.com and put a worthy duffel bag on your sled with a Mountain Hardwear Expeditions Duffel Bag from Backcountry.com. Click on the photo below.