Shopping for a new rugged camera is an exercise in frustration as instead of finding the best one, you are left trying to find the one which sucks the least. Two and three star reviews are the norm and almost every review leaves you hanging with a teaser like, "this is a horrible camera and not worth buying, but the next generation should be better."  What if you want one now?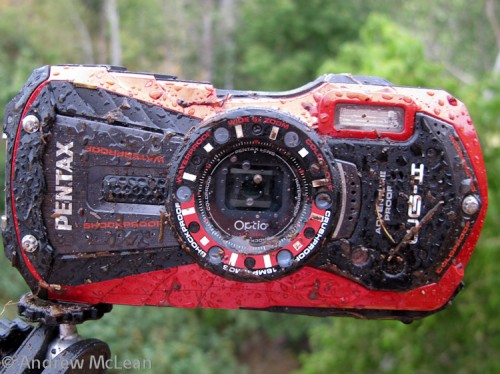 By their very nature, rugged cameras (water, shock and dust proof) will never be as good as a "real" camera, but for sports, that is almost beside the point. If a camera breaks the first time you crash while skiing or drop it into a scum filled pothole while canyoneering, it doesn't matter how great the image quality is, or was. I recently lost my old Pentax W-80 to a watery death in a slot canyon and have to admit that I didn't try very hard to save it as took such bad photos.
After a few hours of research, I ended up replacing my Pentax W-80 with another Pentax, the WG-11.  As much as anything, I decided on this one as many of the major retailers (REI, Backcountry.com, etc) carry it and I figured that they had a good buying team, plus they want to avoid getting returns, so it was probably as good or better than any of them.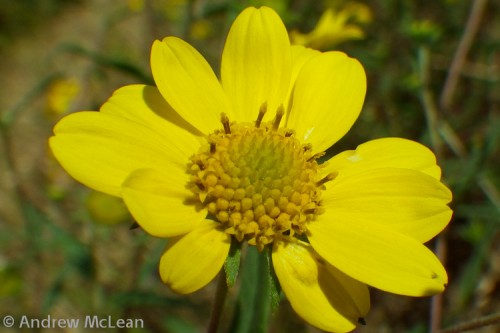 The macro mode on the WG-II is impressive. In real life this flower was about the size of a thumbnail, but the camera was able to focus on it from about 1″ away with very crisp details.  I'm not quite sure how this is important to a rugged P&S camera, but it is a cool feature.
I was prepared to be disappointed, but am happy to say I am actually very impressed with the quality of the WG-11.  I got the basic model (no GPS – poor battery life) and am having a hard time finding fault with it as far as Point & Chute photography goes. I strapped it to my bike frame yesterday and took it for a ride in the rain where it performed perfectly.
Pros:
– Very, very durable.  Don't worry about wiping the lens with a chamois, just hold it under the sink.
– Can shoot time lapse video or timed photos which can be turned into video.
– Has a rapid burst mode which will fire off 5+ action shots per second, although at a lower resolution
– Has an impressive macro mode that could even zoom down to snow crystal size.
– Actually takes good photos which are more than enough for internet usage.
Cons:
– "Designers Gone Wild" styling  makes it hard to feel where the buttons are.
– Battery life is so-so.  Better than the W-80, but not nearly as good as a Canon.  Then again, the batteries are half the size and cost, so this is almost a wash.
My main camera is a Canon G12, and as much as I love the G series of cameras, the Pentax WG-II is not far behind, if at all. The photo below shows two images which were shot within seconds of each other from the two different camera in full auto mode with no tweaking in LightRoom.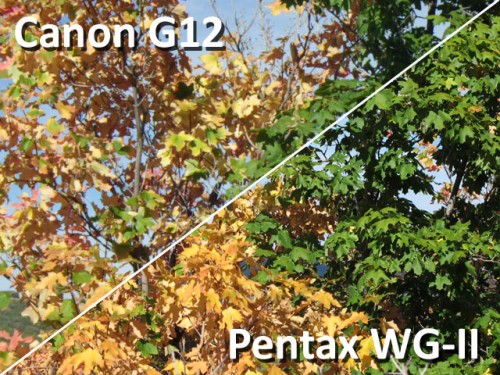 The real advantage of a rugged camera is that you can get impromptu action photos that wouldn't be possible with a normal camera, like in the middle of a white water rapid, biking in the rain or swimming through a cesspool. They also don't condense as much as regular cameras (although they still do to a degree) which means that you can take them into and out of a tent without them fogging.
Like many modern-day marvels of technology, the Pentax WG-II is in danger or being crushed by its owner's manual. It does a huge array of things, most of which are worthless, aside from comic relief on things like "Pet Mode" which will only fire the shutter when it senses the pet is looking at the camera with his/her eyes open. In that regard, the full "Automatic" feature is very slow as it cycles through all of these ridiculous scenario before deciding which one is right and how to expose it.  For most of what I do, I leave it on "P" for Program, which just sets the auto exposure and f-stop.  If the photos are way off, which they generally are not, I can adjust it with Lightroom.
Overall, it is a great camera for its genre and well worth the $300 price tag.
________________________________
Help support StraightChuter.com and capture the Point & Chute moment with a Pentax Optio WG-2 from Backcountry.com. Click on the photo below…

Category: Gear Reviews