This was an interesting and nuanced meeting with a generally favorable outcome for backcountry skiers.*  The main topic was should Summit County include roughly 600 – 900 acres of Forest Service land in a proposed Mountain Accord agreement where it would receive extra protection on top of what the Forest Service already provides.  The land in question (Dutch Draw, the Monitors and Murdock Peak area) was never for sale and none of the resorts were actually talking about putting up chairlifts in the first place, but the proposed agreement would limit future development in these areas including no roads, ATV trails and most importantly, no chairlifts/trams.
For such short notice, there was an overwhelming amount of public input and the meeting room was full.  At the start of the meeting, one of the Council members held up a stack of about 75 papers which had been sent in over the last few days. Roughly a dozen people spoke and all of them were in favor of adding the extra protection except for the three commercial interests, Deer Valley, Park City Mountain Resort (Vail/Canyons) and The Colony.
Details
– This subject just came up not because Summit County was trying to take it away from the Mountain Accord proposal, but because they were asked if they would like to add it in.  Although this was not a decision making meeting, the Council generally agreed that they would like to add it in, in large part because free, open space is such a limited commodity in Park City, and unlike having to raise money to buy it, this was already free as the public already owned it.
– Regardless of what happens with Mountain Accord, the land will still belong to the Forest Service. The crux of this discussion was whether the current Forest Service protection was enough, or if more was needed.  From an open-space and preservation standpoint, the current Forest Service management is not so keen on resort expansion, but with a different political climate and enough money, that could change in the future, especially when summer usage is considered.
– At this point, all of this is very hypothetical as first Mountain Accord has to hold together, and then any sort of proposed protection much be passed by Congress. It's by no means a done deal.
– Although the resorts and developers spoke out against adding any more protection, their hearts didn't seem really into it.  On a scale of 1 – 10, I'm guessing they cared about this at about a level 3 – they don't really want their future options limited, but they didn't have any plans on that terrain in the first place. I did get a good laugh out of hearing how the wildlife had actually increased since the resorts and McMansions were built. Perhaps an elk herd was brought in as a theatrical prop.  The water quality has supposedly improved as well, but considering the old silver mines were pumping arsenic straight into the streams, that's not saying much.
* This may have been a small victory for the backcountry users, but I hope that all of us remember that they Mountain Accord process is both give & take. From what I've seen, far too many participants have drawn hard lines or have great ideas for what some other county or canyon should do, but aren't willing to give up anything themselves. The Central Wasatch has a rich history of in-fighting and there is plenty of historical perspective to support it, but maybe it is time to give peace another chance.
________________________________
Help support StraightChuter.com and see through the consusion with a pair of Julbo Revolution OTG Goggles from Backcountry.com. Click on the photo below.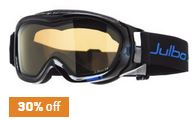 Category: Announcements, Wasatch Mountains