Growing up skiing at Alpental in the Pacific Northwest, I have one word for any garment aside from rubber which claims to be waterproof – bullshit.  (okay, maybe that is a hyphenated compound word, but still…).  I was an early adopter to the GoreTex kool-aid and spent many soggy hours denying that I was wet when the spreading diaper rash told a different story.  If you wanted to stay dry while riding lifts for 8+ hours in a torrential downpour, you went down to Fisheries Supply and bought rubber gloves, rubber pants, a rubber overcoat and a Macintosh hat that worked with goggles.  Two layers of GoreTex (old shells with new ones on top of that) would kind of work for the first four hours, but eventually you'd get wet.  This problem was solved twenty years ago when I moved back to Utah where I have skied in the rain exactly once.
With this skepticism in mind, I was highly dubious when Mountain Hardwear announced OutDry about two years ago while we were at a Design Review meeting in Ouray, Colorado.  After a day of ice climbing in OutDry gloves my hands were still dry, but that isn't saying much as Ouray is mostly steep or overhung, so your hands don't get that wet anyway.  At the end of the day when we were done climbing, I stuck the gloves under one of the sprinkler heads that they use to farm the ice and flexed it for a good 5-10 minutes.  Still, nothing.  Dry hands.  Hmmm, well, it could have been beginners luck.
I skied in the gloves all of last season and was always impressed that by the end of the day they were still dry, which considering Utah's dry, light snow is semi understandable.  Then, while skiing down in Antarctica last year, we were on our way back to the ship and decided to search for some iceberg bits to use as evening cocktail ice.  We spotted a nice chunk and after a few aborted attempts to spear it with ice axe picks, I plunged my OutDry gloves fully into the ocean and picked up the mini berg.  Still… dry hands.  I passed the gloves around (MHW Jalapenos) so other people could check them out and think there were six instant OutDry converts.
On a day-to-day basis where I really notice OutDry is on booting sessions where you are basically crawling your way up steep snow for hours on end. Aside from getting spindrift in the backside of the glove, with OutDry, it just doesn't matter. For a detailed techno-geek description of the process, check out this video.
OutDry started life as an Italian company which was trying to make waterproof fashion shoes.  Unlike GoreTex, the membrane can be woven or formed into shape, so you don't have to use great big Mickey Mouse patterns and then try to stuff all of that into a glove.  Aside from not staying dry in the first place, one thing I never liked about GoreTex gloves was that they were so bulky it made ski pole grips or ice axe shafts seem like telephone poles – you got pumped just trying to close your hand.
Columbia (who owns Mountain Hardwear) recently bought OutDry and now it is in a wide variety of MHW gloves and mittens.  Best of all, it is affordable with some OutDry gloves starting as low as $47.95.
________________________________
Help support StraightChuter.com and check out OutDry in a pair of Mountain Hardwear Jalapeno Gloves from Backcountry.com. Click on the photo below…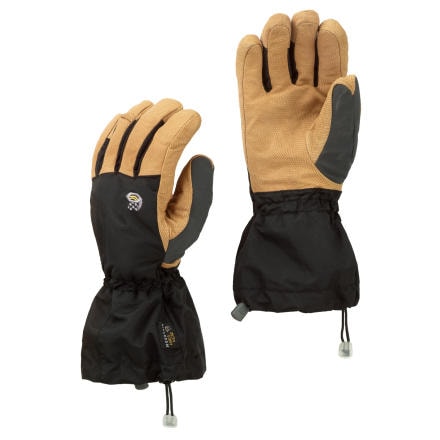 Category: Random