The Fall 2011 OR Show has come and gone, and as usual, it was great fun.  I probably did more skiing and less reviewing than I should have, but with so many fun people in town it was hard to say no.  The skiing itself was a skiff of powder on top of bullet-proof ice, so I expect narrow, stiff skis will be making a comeback as they probably worked best on the day of the demo.
General
Over the last few years a lot of big companies have become even bigger or bought up smaller companies, which begs the question, who is going to fill the gap for innovative new products when all the big boys/girls are supposedly selling out and trying to get into WalMart?  You'd think the gap would be filled by new start-up companies (which I didn't see as I was skiing instead), but from what I saw, the gap was being filled by other large/established companies who were expanding their product line.  K2 came out with a full package of new skins, shovel, probe and touring packs.  La Sportiva has skis, boots and bindings and Dynafit has added a whole new line of Freeride style bindings.  While companies like Black Diamond are pushing into the Alpine Skiing market, players in the Alpine Skiing market are starting to get into (or getting back into) the backcounty market. In general, I think most of the new gear is high quality and it is more a matter of finding something that works for you, which is becoming easier with all of the offerings.
Skis
Skis have gone through such a wild design orgy for the last five years that it seems like this year nothing is shocking.  A pair of 194cm reverse camber, pin-tail, early rise, lightweight backcountry skis with a 140mm waist and a bulbous nose?  Yawn.  What else ya got? The meat of the market seems to have settled into the Coombackish size category and the nuclear-arms width race seems to have plateaued a bit.
Boots
I only have eyes (and a foot that fits) for Scarpa, so I didn't really look at all the new boots out there.  From a cursory glance, it seemed like there were a lot of very beefy four-buckle boots that you could, maybe, kind of, possibly tour in, but were mainly all about the down.  Scarpa is coming out with a three buckle version of my current favorite, the Maestrale, which is named the Rush and looks very promising.  It is slightly shorter and lighter than the Maestrale, uses the same tricked out articulated tongue and comes with an easier to spell name.
Airbag Packs
BCA has a nice looking little 18 Liter pack coming out that would be a nice day touring rig.  After seeing the latest rounds of ABS packs, I had to eat my earlier criticism about their lack of skiability and trim as the new ones looked very nice.  They offer two "base" sizes of frame/regulator/airbag/harness, which you can then zip on a number of different bags to suit your needs.  This is a doomed concept in regular packs, but for an airbag pack it makes sense.  SnowPulse looked as good as ever and along with their regular airbag packs they were introducing a cool little airbag "pod" that could be inserted or removed from your pack as needed.  If you want to take the pack rock climbing, you remove the pod and it is a regular pack.  Skiing sketchy slabs?  Put the pod back in.
Skins
BCA had a magic carpet print on their skins which I personally thought was pretty cool, but aside from that, there wasn't a lot of new stuff in skins aside from other players getting into the market.  Much to my dismay, mixed skins (mohair/nylon) seem to be catching on, which is a pity as I think they are the worst of all worlds. I didn't see anything new in tip/tail attachments and am slowly working myself into a hissy-fit rant blog posting expressing my opinion on tip attachments.  Stay tuned.
Beacons
Pieps is coming out with a super fancy new version (GPS, data, four antennas, etc.) and Ortovox is conversely coming out with a simplified version of their already fancy unit. I'm still happy with my current beacon and familiar with how it works, so I wasn't really in the market for a new one.  But you never know.
Fabric Wars
The machinations, politics, rules and restrictions behind GoreTex is worthy of a major novel, although it is one most clothing manufacturers would rather not read.  Mountain Hardwear came out with a proprietary new fabric named Dry.Q which I've been using for the last month and love. Polartec introduced "NeoShell" with a series of painful ads that looked more suited to reducing domestic violence or methamphetamine useage than to staying warm and dry in the outdoors.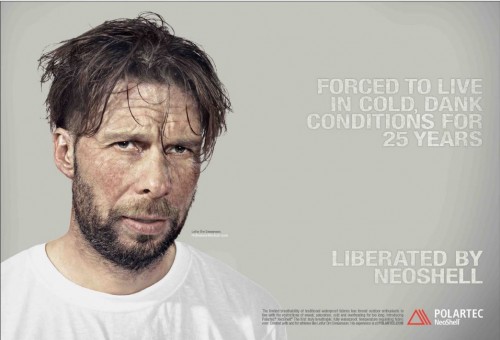 All in all, there is a lot of cool stuff coming out next year and something for everyone and every type of skiing.
________________________________
Help support StraightChuter.com and stick with a proven winner, the Mountain Hardwear Monkey Man Fleece Jacket from Backcountry.com. Click on the photo below…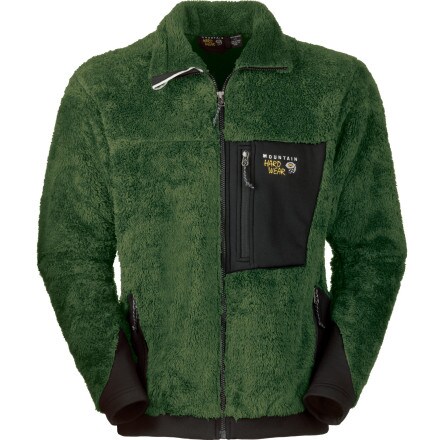 Category: Gear Reviews