This trip came about in a serendipitous manner.  In 2006 I wanted to see if I could ski all seven continents, and had just happened to meet Grant Guise through Ski Mountaineering racing, which Steve Romeo was also involved in.  Grant lived/lives in New Zealand and so we decided that was a good enough of an excuse to get down there.  Steve knew Chris Figenshau from Jackson Hole, who came along as a skier/photographer.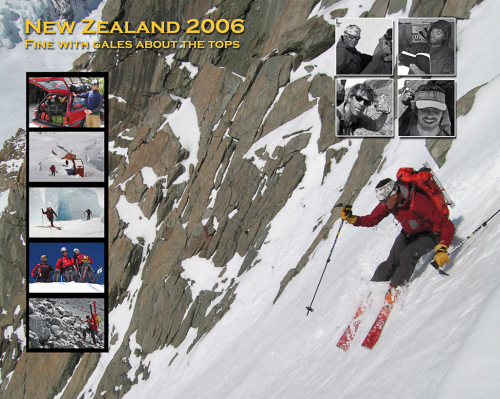 Watch out for the shitter.
We spent quite a bit of time waiting around Mt. Cook Village for a helicopter flight into a hut which was located right near the base of Mt. Cook itself.  In retrospect, the hike in wouldn't have been too bad and we could have done it on foot, but that is hindsight.  When the pilot dropped us off and as the engines were still howling, he gathered us together and shouted "Watch out for the shitter!"  We all got a good laugh out of this, except as we started down towards the hut with heavy backpacks and unbuckled boots, we saw the true meaning of his words.  The outhouse is located right on a rib of snow with very serious fall potential on either side of it, and the steep roll-over final approach was almost blue ice.  Very sporty.  Welcome to New Zealand.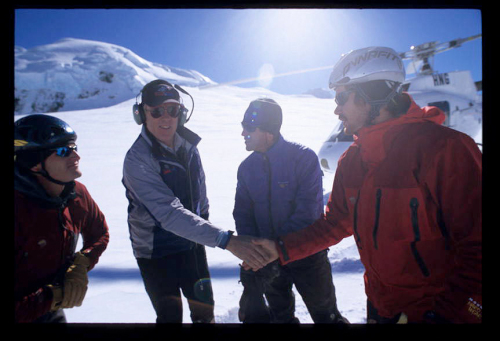 "Watch out for the shitter!" No kidding. Photo by Figs.
After settling in, we realized that the shitter itself was apparently full or blocked, which we reported on the nightly "sched" or radio call in.  The park ranger claimed that couldn't be the case, and told us to grab a piece of lumber and knock down the frozen poo pile, which was met with eyes of terror. I think it was either Steve or Grant who finally did the deed, and it worked.

Sometimes just getting to the outhouse was full contact, which is why there is a steel cable running from it to the hut.
The Little Avalanche That Wasn't
While we were waiting for good flying weather, one day we decided to hike up a nearby valley and ski a very scruffy little couloir.  This was the first I had ever heard of "Teton Style" which was Steve's way of doing multi mile approaches in his ski boots, which I tried for my first and last time that day.  About 1/3rd of the way up the couloir, just as we were skirting around a rock band, a sluff of snow and rocks came down from above which missed us, but caused us to rethink the couloir.
The next day while we were waiting around town again, we all checked our email to find all sorts of comments from friends about how lucky we were to be alive, etc..  ???  It turned out that Steve had "just sent an email to a friend" who happened to be the editor at the Jackson Hole newspaper, who ran a brush with death version of it in the  paper.  Steve was fined "Grounds for rounds" and had to pay up.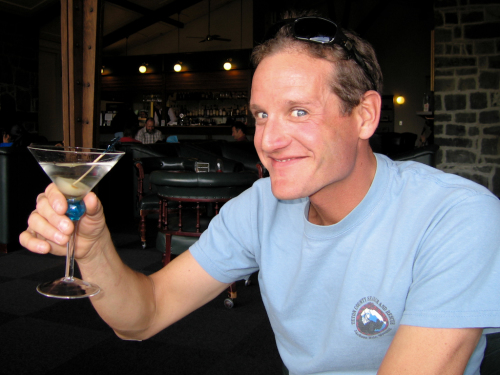 Steve making good on his Grounds for Rounds penalty.
Weather
Oh man can New Zealand dish it out!  It easily gives Patagonia a run for its money, although NZ tends to add precipitation on top of all of the wind. We didn't end up doing much skiing, but we got to experience some first class storms.  When we first arrived at the hut, I was wondering why it was secured to the ground every 10′ with an inch thick steel cable, but later wondered if even that was enough.  We'd eagerly await the weather forecast each night on the radio, and at one point the person described it as "fine with gales about the tops" which in our hut meant sustained 60+ mph wind and a meter of new snow.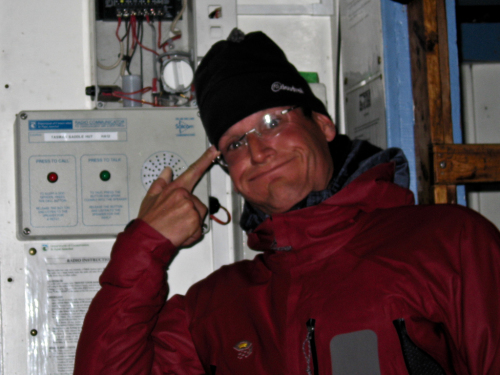 Steve receiving the wx report.
The Birth of TetonAT.com
Blogs were just beginning to take off and Steve had decided to launch TetonAT.com as soon as he returned home, so it was a topic of conversation.  At one point he illustrated how to clean his boot notches with a Whippet, which he said was going to fall under the "Tech Tip" category.  We laughed at the obviousness of it, but a few years later his website was up and cranking, mainly due to his endless enthusiasm and love of skiing.
Skiing
We had originally planned on trying to ski the Caroline Face on Mt. Cook, which after the first glance we immediately abandoned.  There's a classic postcard of the face from many years which makes it look skiable and has launched at least two trips that I know of, but the face was completely different in 2006 and may never actually be like the postcard again due to huge chunks falling off.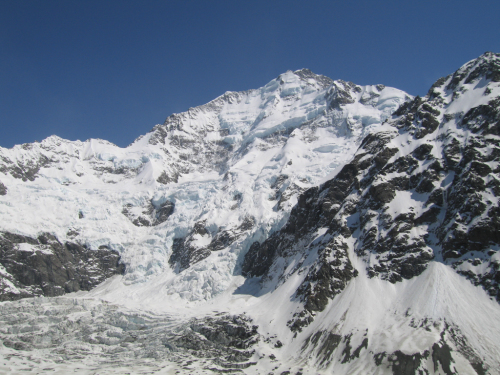 The Caroline Face.  Yeah, well, you can always dream.
Due to rock hard snow which was caused by the high winds, we ended up doing some very mellow sightseeing tours with a few steeper lines thrown in whenever we could, which was not often.
Glacier Tours
The hut was located on a rock spur which overlooked a beautiful icefall.  One day in the afternoon, Grant, Steve and I decided to ski down next to it, then work our way back up through the center with radio direction and photos from above by Chris Figenshau.  It was a total maze and we never would have found our way through without direction, but it was very fun and photogenic in retrospect.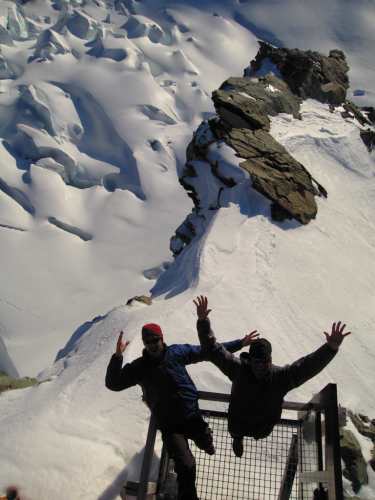 Grant and Figs(?) on the sky balcony overlooking the icefall.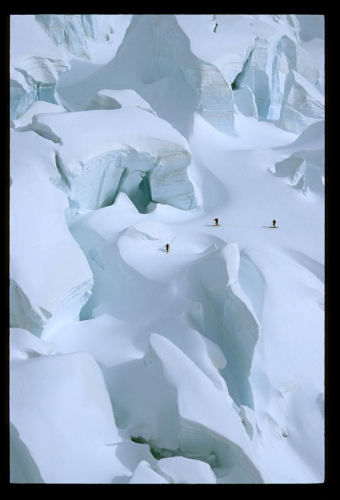 A Chris Figenshau photo. I don't recall ever seeing these in print…?  But they should have been.
Travel
Like many places, you go there for the skiing, but the people, culture and travel turn out to be more interesting in the end.  New Zealand is a travel friendly place to visit with lots of recent history and fun activities.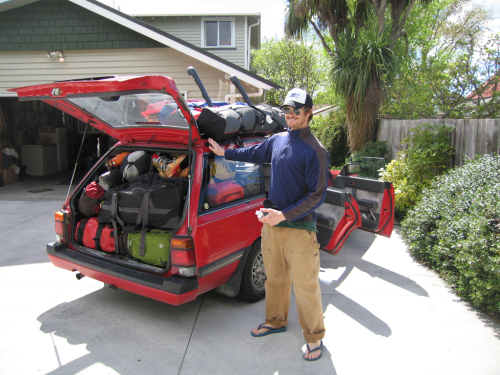 Cruising around in Grant's overloaded little red Subie.  Thanks Grant!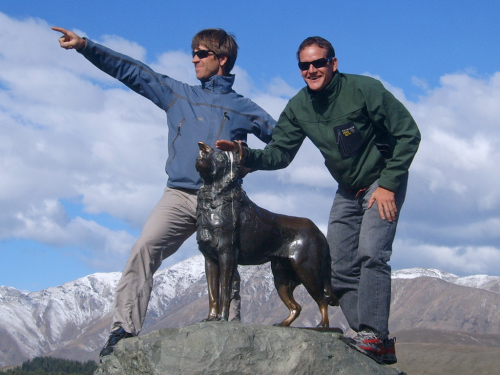 Kiwis love their sheep dogs, for good reasons.  
________________________________
Help support StraightChuter.com and gales around the tops with a Mountain Hardwear Super Chockstone Jacket from Backcountry.com. Click on the photo below.
Category: Trip Reports