As part of my lightening-up bender, my old beacon pouch got the chop and was replaced with a new one.  The old one was fine, but it succumbed to the Law Of Luggage, which states that the amount of crap you take with you will fill all existing carrying space and then some.  It was a fine pouch, but it was too heavy as I always had it filled with junk because I could.  Plus, it had a pocket for a GPS/cell phone/multi tool right next to the beacon, which caused E22 messages – electronic interference.  My old pouch is on the left, the new one on the right.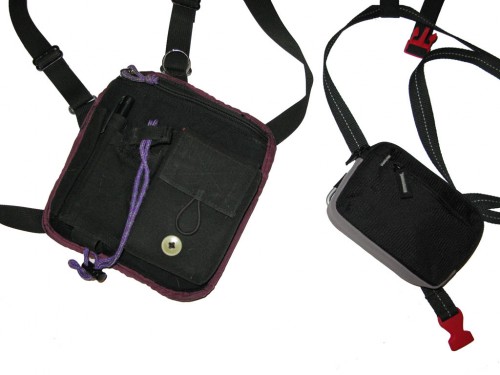 A seamstress friend of mine described projects like this as "sewing doll clothes" because they are small, complicated and in my case, involve a lot of seam ripping, profanity and redoing.  I use to start from scratch, but now the first thing I do when I'm building a small custom case is to stop by WalMart.  I know, they are evil and kill kittens, but they also have TONS of little zip-up camera bags, as was the case with this one.  I brought my beacon in and it perfectly fit into a $9.00 Case Logic bag, complete with padding, a main pocket and an external pocket.  Beacon zen.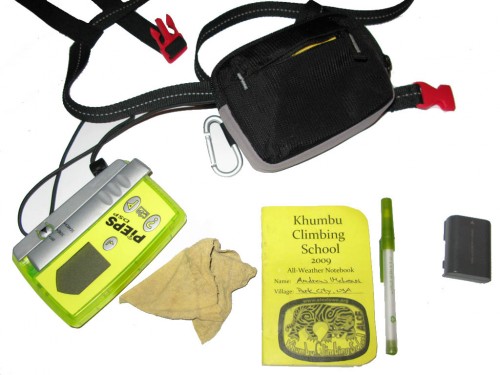 The above photo shows the contents of my new case; beacon, chamois cloth, small waterproof notepad, a sawed-off pen and an optional camera battery.  I stitched a little loop on the bottom which I've threaded a mini biner through (sliver biner on left of case).  I like having a clip-in point on my beacon case either for clipping it off in a tent to keep it from getting lost, or so I can clip off a pair of gloves so I don't have to put them in the snow while I'm dicking with gear or when I take them off for skinning.  I also eliminated one of the fastex buckle sets, which means the case doesn't have as much adjustment, but it fits me and is clean and smooth under my jacket/pack.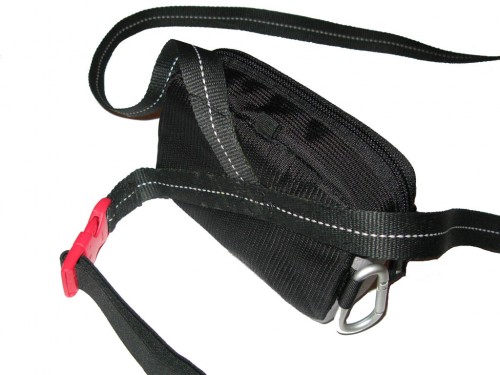 Weight-wise it only saves a few grams/ounces, but it is smaller and not as hot, which is good.  It has also inspired gear envy in my wife and friends, which is invaluable.
________________________________
Help support StraightChuter.com and fill your new beacon case with a Pieps DSP Smart Transmitter from Backcountry.com. Click on the photo below…
Category: Projects