Much to the dismay of my partners, I am a minimalist when it comes to the amount of gear I bring for performing a crevasse rescue.  I bring a snow pickett for an anchor, waist and foot prussick loops, a 20′ cordelette, about six Oz carabiners, a screwgate locking carabiner and 2-3 full-length Dynex runners.  It may be less than ideal, but I hate having a ton of extraneous clanking gear clipped to my harness, plus, the best way to avoid taking a screamer crevasse fall is to make sure your rope is taut in the first place.
According to the Authorities, you should also carry a few other items, including a pulley.  I carried a pulley for a while, but to get a full-strength one (why carry weak gear?) meant even more clanking gear, plus I did some selective reading and found that the pulleys don't reduce the friction all that much more than just a biner, so I dropped the pulley.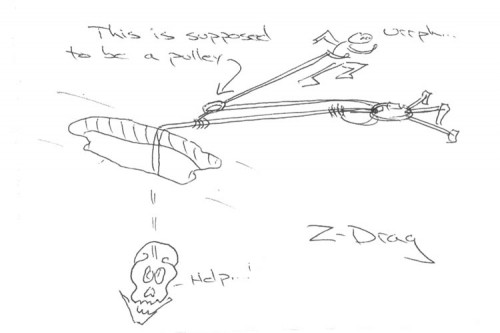 However, on our last trip across a glacier, Dylan Freed had a DMM Revolver carabiner with an incorperated pulley in it which made a ton of sense.  I think the Revolver was originally intended for sport climbing where you were suppose to clip it to the crux bolt so that it would reduce rope wear and impact forces, but at $30ish bucks, I'd rather just grab the sling and say "TAKE." Still, having designed carabiners before, I lusted after a Revolver in my heart as it is one of the more obscure, cool biners out there, but I didn't have a good excuse to buy one.  Until now.
Starting with a hot forged body (pricey), it incorperates a variety of different gate styles, although I like the simple screw gate version the best.  It also has a keylock nose, which is nice as it is less likely to snag on slings and harnesses.  But, the coolest part is the jewel-like pulley barrel which is seated right at the rope bearing surface.  What I like about these biners for crevasse travel is that they can be used as a pulley, but also as a regular biner or even a locker.  The tail area is too small for fitting around a harness or beefy belay loop, but they aren't really intended for that anyway.
When not in use, I plan on clipping it to the Spectra accessory cord on my titanium spork.
________________________________
Help support StraightChuter.com and Z-Drag like a mofo with a DMM Revolver Locking Carabiner from Backcountry.com. Click on the photo below…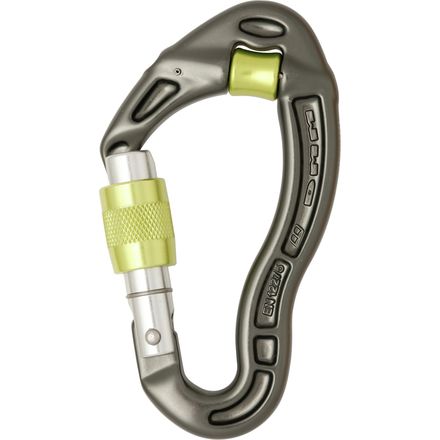 Category: 02 Gear