Here is a blow-by-blow description of my cook kit.  I've developed this over many years and it is definitely geared towards melting lots of snow and cooking simple meals which don't require simmering.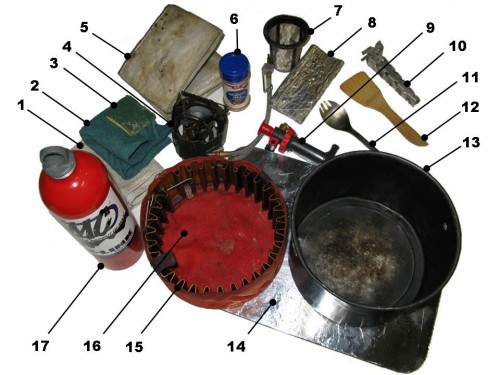 9″ x 9″ cotton cloth for general clean up
6″ x 6″ faux chamois for wiping down tent condensation
Scrunge – cut in half
MSR XGK stove – the heart of the system
Backpackers Pantry Pot Cozy
Seasoned Salt
Tea/pube strainer
MSR windscreen
MSR Spondonical (pot grabber)
Bamboo pot scraper
REI 3 liter aluminum pot – black
Stove board (wood with aluminum foil)
MSR heat exchanger (for anything over 3 days)
Pot liner (home made – pack cloth)
33oz/1 liter fuel bottle with cap and stickers covering the word "fuel"
Bic lighters (not shown – don't fly with them in your kit!)
Everything except the fuel bottle and stove board fits inside the pot, which in turn has a little stuff sack to keep it all together.
Notes:
The heat exchanger needs a wire "extender" to fit around the 3 liter pot
I've heard the Pot Cozies are next to impossible to find nowadays
I use the pot liner to hold all of the cook kit while the pot is in use – this keeps stuff from getting lost
The little tea strainer works well as a crude filter when you are melting dirty snow
My water melting set-up is shown in this previous posting
________________________________
Help support StraightChuter.com and flame-on with a MSR XGK EX Multi-Fuel Stove from Backcountry.com. Click on the photo below…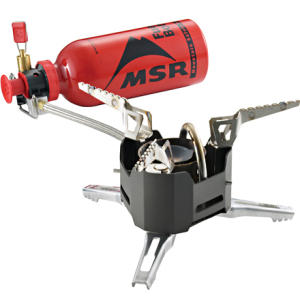 Category: 02 Gear