Much like La Grave, France, Gulmarg in Kashmir is a lift served backcountry skiing paradise.  The main difference between the two areas is that what La Grave has in vertical and steeps, Gulmarg has in width and endless open bowls of powder.  The areas are similar in infrastructure, but very different in terrain. Located in the Himalaya, Gulmarg not only has views of some of the highest mountains in the world, but also the mind-bending experience of traveling through India.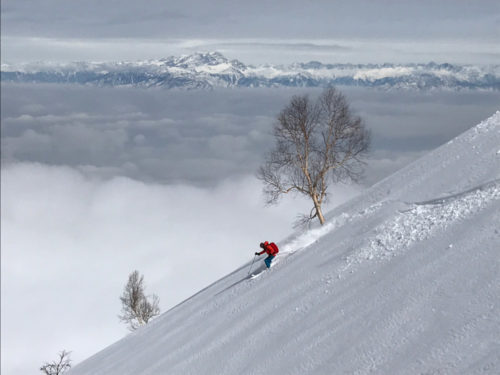 Skiing in front of Paper Trees ((Birch).  Photo: Mark Sedon
Gulmarg's main (and only) gondola tops out at 3,980 meters (13,058') and provides a 4,331' descent if you ski it all the way back down to the town of Gulmarg at 2,660m (8,727').  The gondola runs right up the center of the massive Mt. Apharwat ridgeline, which faces due east.  From the top of the gondola, there is an avalanche controlled area that is technically the "in-bounds" part of the ski area, but with either skinning up to the south or gliding down to the north, you can immediately access an endless series of parallel bowls which run for over 3,000' each, with some being even longer.

Gulmarg faces predominately east, but as can be seen by the shadows, had north and south sides to each bowl.
Guides
Almost anything you read about Gulmarg suggests getting a guide, including this blog post.  Not only is the terrain huge and exposed, but finding good powder is a subtle art.  Another complicating factor is that with the tram pumping people out, it can be very easy to have clueless people skiing above you, which was the cause of an  avalanche fatality there.
During my stay in Gulmarg, I met the whole gambit of guides, ranging from the completely clueless who could barely ski, to a British ski instructors, to one who claimed to have X-Ray vision for snow (no pits needed), to fully certified IMFGA mountain guides.  Depending on conditions and ambitions, a guide is not absolutely necessary, but you should have very strong avalanche skills and patience if you go without.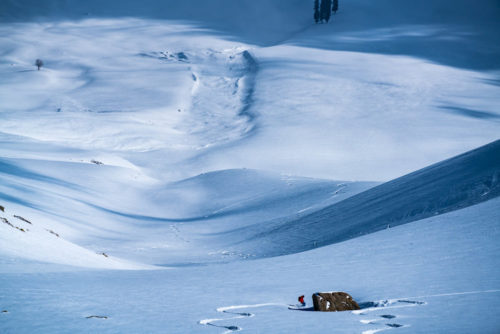 A rare hiding spot in the middle of a huge avalanche slope.  Photo: Mark Sedon
The Skiing/Riding
Huge bowls are what Gulmarg is all about, but they also make it a very serious place for avalanches as there are few places to hide once you start down a line.  There are also a ton of lines off the back and tucked into trees, although they might be tricky to find on your own.  Skins and hiking are not mandatory, but they will greatly expand your horizons and enjoyment of the area.  Most of the skinning is straight forward and moderate angle.  A regular snowboard will work, but splitboards are far more practical.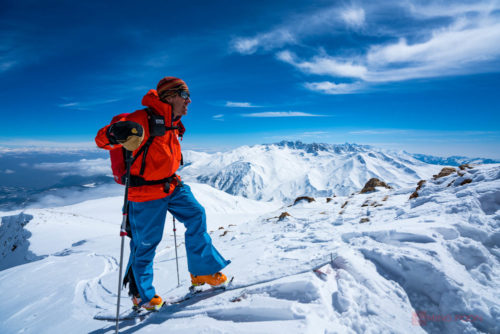 Topping out after about a 40 minute skin from the top of the gondola.  Photo: Ming Poon
A full day pass will give you unlimited access to all of the lifts, including both stages of the tram and was about $30 in 2017.  You can also buy a single ride tram pass for about $9.  Gulmarg has a few little surface tow lifts in the valley for beginners and a treacherous quad chairlift (watch out for the off ramp!), but the main attraction is definitely Phase Two of the tram.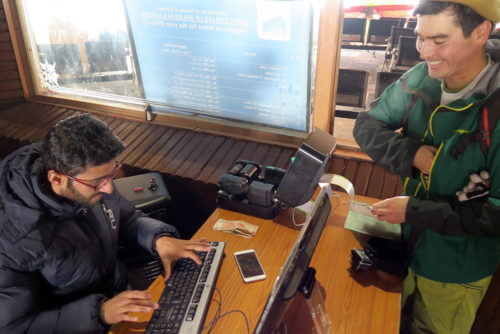 The ticket buying process is very slow.
The tram is occasional closed due to weather or while the local patrol is doing control work.  In that case, or when there is fresh snow down low, it is possible to do a very short skin up Monkey Hill and/or get a 1,500' tree shot down to the town of Tangmarg where you can easily get a taxi back up the hill.  It's also possible to tour directly up from the town of Gulmarg if all of the lifts are shut down.
Ming Poon (mingpoonvt@yahoo.com) Gulmarg Photo Gallery
Travel
Yow!  If you have never traveled in India, brace yourself – it's a madhouse.  By plane, you will ultimately want to end up in the city of Shrinagar (SXR) which will most likely involve a flight through Delhi (DEL).  Considering I flew close to halfway around the world and had an 11 hour time difference in 32 hours of travel, the $1,600 ticket didn't seem too bad, although a friend got his for $900. Delhi is the international airport where you will have to go through customs and pick up your bags, which can easily take two hours.  It is also your last best chance to buy any alcohol if you are so inclined, but you'll have to tuck it into your checked bags to Shrinagar.  Kashmir and India are predominately alcohol free. From there, you need to check into the domestic side of the airport alongside flights to Karachi and Islamabad.  You will need a visa, which can be easily obtained for about $60 through the Government of India e-Tourist Visa program (https://indianvisaonline.gov.in/visa/tvoa.html).
Getting out of the Shrinagar airport is straightforward, although you will be mobbed by people grabbing your bags to help carry them for a small tip (about 100 rupees, or $1.20).  From here, unless you are a complete glutton for travel punishment, you will want to have a prearranged ride to the town of Gulmarg, which is about 90 minutes away.  Many of the hotels in Gulmarg provide this as they work with local taxi drivers and it is included in the price of the hotel.  Travel is along India Highway 1, which is much fancier sounding in name than in reality.  Beware of wandering cows, dogs, traffic driving in the on-coming lane, markets which have spilled out onto the streets and random stops by unmarked police with guns.  Welcome to India – you are in it now.  ;)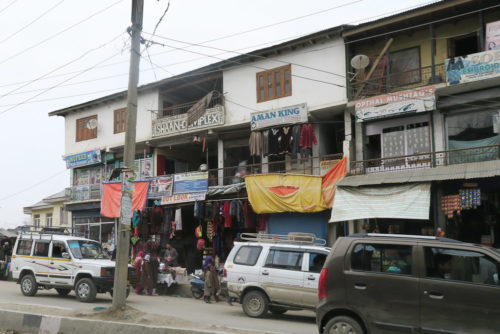 Street scenes along India Highway 1.
Almost everything is done in cash, which can be problematic as the exchanges at the airports will only allow you to change about $80.  But, not to worry.  The taxi driver can help arrange a roadside stop for changing larger amounts.  Most of Kashmir is also happy to take dollars, but that is not always practical.
Departing from the Shrinagar airport is a whole new level of confusion with check-points, inspections, special fees, random mandatory kiosks and general mayhem.  We were met at the curb by a very enthusiastic porter, who grabbed our bags, then muscled straight to the front of the line, ushered us through all of the formalities and did everything but fluff our seat pillow on the plane.  At first I was highly suspect, but in retrospect, he was a godsend and well worth the $10ish dollar tip I gave him.  The planes are also under very heavy scrutiny and most people know better than to bring any carry-ons as the security guards tear everything apart.  Toothpaste?  Let's see you eat some.  Open up that pen and show me that it really works.  Let me look through that notebook.  I suppose it is all for our own good, but it can be very slow and frustrating if you are trying to catch a flight (which will in turn be late anyway, so don't sweat it).
Mark Sedon Gulmarg Photo Gallery
Food & Accommodations in Gulmarg
Gulmarg is a major mountain tourist destination for travelers and visiting Indians.  It is fairly small and can be walked around, although in the winter, you'll definitely want to bring snow walking boots as sneakers will get wet.  From end to end, I'm guessing the town is about 1.5 miles wide and features a golf course right in the middle.  The Gulmarg valley is appropriately named as "gul" means flowers and "marg" means meadow, or a flowered meadow.
I lucked out by staying at the Hotel Highlands Park as that is where my friend Bill Barker bases his Gulmarg trips out of.  It is a nice hotel located right at the base of the River Run, which is generally the last run of the day.  The Highlands Park is ideal as it is a bit off the beaten path, serves breakfast and dinner, and is one of only three places in Gulmarg with a bar, which serves as a gathering spot at night for skiers.  They take credit cards and you can roll all of your meals onto your tab as well – this means you can carry less cash.  It is also a very safe hotel and each room has at least one house boy to get the fires going in the morning, help sort your gear and clean stuff up.  It's quite decadent.  Highlands Park also has a much higher level of kitchen sanitation, which means a lot in India. Bill's program includes the hotel, transportation, guiding, etc., and is highly recommended, especially for a first trip to Gulmarg..  For more info, check out www.billstrips.com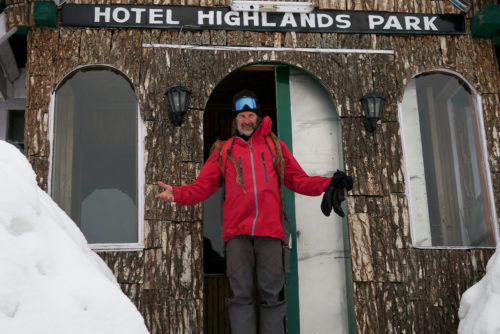 Bill Barker – the unofficial mayor of Hotel Highlands Park.
There are many other options for food and lodging, but I would beware of super cheap accommodations as they may lack a few things that Westerners take for granted, like hot water and electricity. Same goes for eating street food – may the eater beware.  It is fairly common for tender-bellied westerners to get sick as a dog.  Luckily you can buy all sorts of pharmaceuticals, including Cipero, over the counter at the many pharmacies.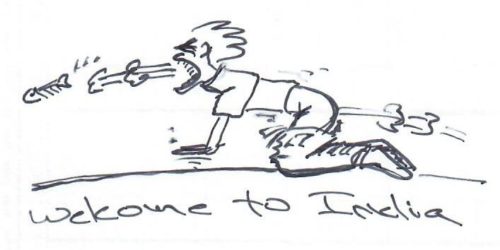 OoooOOoohhh man… I knew I shouldn't have eaten that street samosa.
Culture
It's doubtful that the U.S. travel warning will be lifted on Kashmir anytime soon, but after I got used to all of the guys walking around with guns and machine gun nests on street corners, I felt safe, or at least safer.  Kashmir is a small mountain kingdom trapped between two world powers – India and Pakistan.  In about 1947, Kashmir lost its independence and as a disputed territory, reluctantly decided to side with India instead of Pakistan.  The result is a three-way stalemate with occasional flare-ups from Kashmiri freedom fighters.  These "difficulties" don't have anything to do with tourists, and if anything, tourism brings money into the region, so tourists are a kind of protected species in the area.  Most of the armed presence is the Indian Army who are there to protect against a very unlikely attack over the mountains from Pakistan, or to quell riots (which I never saw).  Like anywhere in the world, it is possible to get into trouble if you really try, but generally respecting the culture goes a long ways.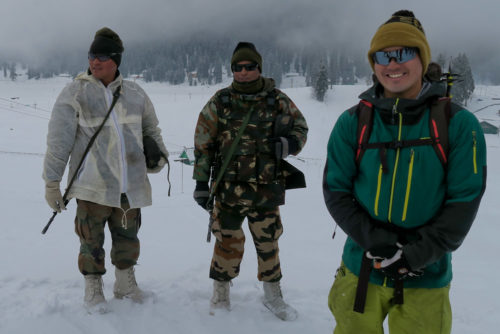 Two soldiers keep Ming Poon under control at the top of the Poma lift.
Andrew McLean Gulmarg Photo Gallery
___________________
Help support StraightChuter.com and get the best prices on the best gear at Backcountry.com! Click the Golden Gear Goat below:
Category: Announcements, Trip Reports