I was checking out the LiftUtah website yesterday to see which new developers, realtors, construction companies, linen services, bankers, lawyers and politicians had been recruited to support this "public transportation system" (hahaha…) and got a great laugh out of the website's background image. Not only do all of the members of Lift Utah hate the idea of adding any more Wilderness to the Wasatch, they actively pay DC lobbyists to fight wilderness legislation. So with that in mind, it was wonderfully ironic to see that they had used not only one, but TWO Wilderness areas as a background image to promote their pet project, SkiStink, as an environmentally friendly idea.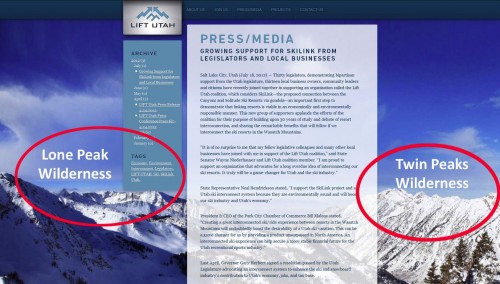 This photo was taken from the head of Little Cottonwood Canyon looking back to the west and they somehow managed to crop out the entire town and ski resort of Alta, all of Snowbird, Highway 210 and all of the million-plus people who live in the Salt Lake Valley 14 miles away to make it look like the Wasatch has vast tracts of open land, which it doesn't.  But, it was at least nice to see that they recognized the beauty of undeveloped mountains, if only as a sales tool for developing them.
In an effort to put some truth back in advertising, I mocked up two more realistic backgrounds for the Lift Utah website, which they are of course free to use with no charge…

This is my personal favorite as it shows the ghost town of "empty beds" that I suspect are the real driving motive for trying to usurp 30 acres of pristine public land for more ski resort expansion.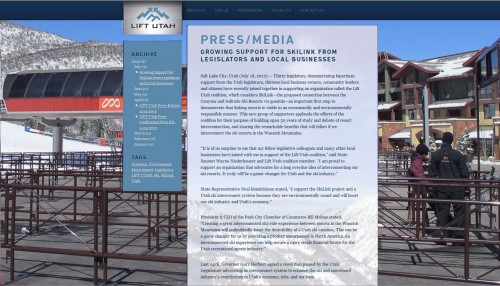 This one is a close runner-up as it artistically and sensitively captures the overall emptiness of the Canyons on a clear, sunny winter day with 6″ of new snow. If the Canyons does eventually buy Solitude, they will be able to recycle all of Solitude's "empty resort" ads which don't seem to have worked for that resort either. I wonder if they have ever used "putting more vacancies in your vacation" as a tag line?
Hey lifties – straighten up you slack-tarts!
Category: Random