Due to the strange snowpack we have this year in the Wasatch, I've been skiing new, although not necessarily exciting, terrain.  I have yet to dig a pit as almost every time I go out I've felt collapsing, seen natural slides, triggered avalanches with ski cuts or dropped cornices, and/or seen shooting cracks.  Between that and reading the UAC report, it is obvious that the unusual storm patterns have created unusual avalanche conditions and it is best to be patient.  People have been getting away with skiing some steep, north-facing lines (generally The Goods in the Wasatch), but I'm still leery of them.
Instead, I've been collecting some obscure crusty lines and piecing together long, low angle skiing circuits.  At first this doesn't seem like that much fun, but it is a perverse challenge to put together an 8,000′ tour that never gets over 30 degrees and doesn't involve repetitive laps.  More than anything, these tours are good to have in your repertoire for future high avalanche danger days. So far the skiing has always been better than expected and the snow quality itself is good, although shallow and sensitive.
One of the keys to doing low angle tours is finding partners who are into it as well.  Finding partners for steep, exposed, fall-to-your-death terrain is easy, but finding people who are patient and willing to slog can be tough.  It is also hard to sleuth-out terrain in that coveted north-facing, mid elevation, moderate angle, sheltered realm that is new and therefore uncrowded.  The South Face of Superior is big and obvious, but The Eyebrow, Slimy Ridge and Freebird Trees are carefully guarded secrets because they can only handle a few sets of tracks.  Most of the time this type of skiing is just table scraps, but this season it has been the main course.
I am heading over to Beijing, China to present the "Golden Rhino Award for Best Climbing Spirit" on behalf of Mountain Hardwear and will be back on March 8th.  Until then, pray for snow.
________________________________
Help support StraightChuter.com and get wayback in the outback with a Mountain Hardwear Wayback Pack from Backcountry.com. Click on the photo below…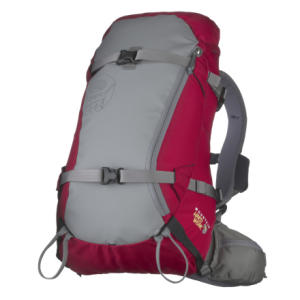 Category: 07 Avalanche Avoidance