This line of stopped cars heading up Little Cottonwood Canyon road looks, smells and feels like a traffic jam, but there's far more to it than just that.
At the heart of the problem is that the Little Cottonwood Canyon (LCC) road is a narrow, winding, steep, two-lane  mountain road which is threatened by 36+ avalanche paths and it happens to be located in one of the  highest snow-load areas in the United States.  This in itself this isn't a problem, except that the highest traffic demands usually occur right after the highest snow events as thousands of people hurry-up and wait to get in line for the 9:00am opening bell at Alta and Snowbird.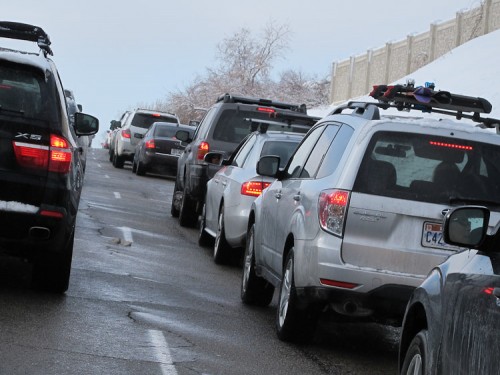 The Utah Department of Transportation (UDOT) controls LCC with explosives and artillery, but they can't start doing that until first light when they can both see the results, and nowadays, see if someone is hiking up one of the avalanche slide paths. Because of the size of this job and then any subsequent road clearing with a snowplow, even if the efforts start at 6:00am, it can still take 2-4 hours to control all of the paths, and even that can be vastly complicated by avalanche conditions.  It is one thing if you shoot a path and it immediately complies by sliding, but what if it is loaded and doesn't respond to explosives, but may release an hour later as the temperatures rise just as the LCC road is completely packed with cars?  On top of that, the resorts hate it when the roads are closed, all of which must make UDOT's job incredibly stressful.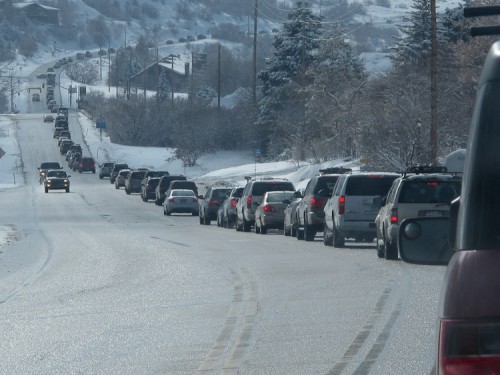 Yet another factor is that rental cars are essentially required equipment for a Utah ski vacation, so you have a lot of people in crappy 2wd rentals, many of whom have limited snow driving experience, driving up and down the canyons.  All it takes is one little fender-bender to completely stuff traffic, which happens pretty much every day, if not multiple times per day.
And all of this is just to get TO the resorts.  When they let out at 4:00pm, it is the same thing going down, if not worse.  A friend recently spent three hours going from Alta to Snowbird – a total distance of about a mile.  The problem here is that once you get in your car, you are immediately part of the problem and yet there is no way to extricate yourself as you are completely hemmed in.
It is a huge mess and seemingly getting worse even though resort numbers are down or flat. My personal dream/vision is that someday soon there will be a Euro style train running up LCC and BCC, which would be protected by snow-bridges or tunnels.  This would eliminate the whole need for artillery and be much more reliable, not to mention better for the air quality. While almost everyone agrees this is a good idea, the resort-expansionist crowd is quick to reply with "HA!  And who is going to pay for that?"  I don't know, but I think the answer will be clearer once a traffic jam is wiped out by an avalanche, or when John Q. Public is hit by artillery while skiing on public land (actually, in the last instance, they'd probably just outlaw BC skiing first…).
Aside from the cost, there are all sorts of other issues with trains, such as where to find parking space for all of the cars down at the base of the canyons. Because of the proximity to the resorts, all of the surrounding land is highly coveted and developed real estate, so it is not like there are huge open lots available for transit stations.  I think if Utah is going to continue to promote tourism and skiing in LCC and BCC, this is a serious bottleneck, which is perhaps why Gubner Gary is so into fracking.  One thing that seems obvious to me is that adding even more chairlifts, trams and gondolas without first addressing the traffic issues is only going t make the situation worse.
So why bother?  The photo below is one good reason. There just aren't that many places where you can have both the advantages of a major metropolitan area right next to beautiful mountains.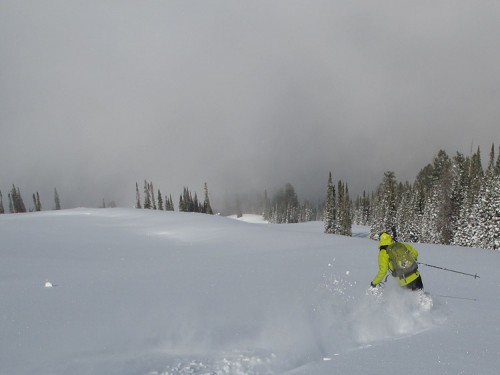 ________________________________
Help support StraightChuter.com and carry emergency car bivy gear in a Yakima Sky Box 16 Cargo Box from Backcountry.com. Click on the photo below…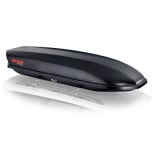 Category: Wasatch Mountains