The other day I was out skiing with a woman I didn't know very well and she mentioned something about "macho assholes who set steep skin tracks."   Good thing it wasn't a first date as she was most likely talking about me.  I love steep skin tracks in the same way that I love steep, run-out friction climbing.  It's a fun physical and mental challenge that gets easier the more you do it and at some point it just becomes normal.
High heel-lifters are a must for steep skinning and I also like to shorten my poles down so I can get on top of them and push.  But, more than anything, steep skinning requires a developed feel for what your skins can stick to, and equally important, being able to relax while doing it.  Avoid breaking at the waist, keep your back straight and push through your heels.  It's not that hard.
I'm hardly the first Wasatch skier to put in steep skin tracks.  I learned how to skin from Alex Lowe who went straight up everything and seldom booted.  Part of the Wasatch steep skinning ethic comes from the fact that we get a lot of deep snow and if you are going to be ground to a crawl breaking trail, you want to do it in the shortest distance possible, not cutting long zig-zags all over the hill.  The terrain here also favors steep skiing – the approaches are minimal and most of the ascents are up gentle ridgelines which force the choice between lots of switchbacks, traversing out into exposed slopes, or, steeper skin tracks.  Another factor is that synthetic skins work well in our dry snow and they also favor grip over glide, so you can push steep angles with them much easier than mohair.
But, getting back to the fun factor of it, if I am going to be breaking trail for 2-4 hours a day, it has to be interesting to me and I seem to ski with many like-minded people.  A lot of time a steep skin track will be a greasy, unclimbable mess a few hours or days after it has been set, but you can usually still use 80% of it and throw in a few extra switchbacks to get around the slick parts.  I don't mind occasionally getting ejected off of a steep skin track.  Breaking trail may be a kind of public service, but that doesn't mean that it has to be done to the lowest common denominator. If it is too blown out and slick, but put in a new one.
________________________________
Help support StraightChuter.com and keeper steeper with a pair of Black Diamond Ascension Nylon STS Skins from Backcountry.com. Click on the photo below…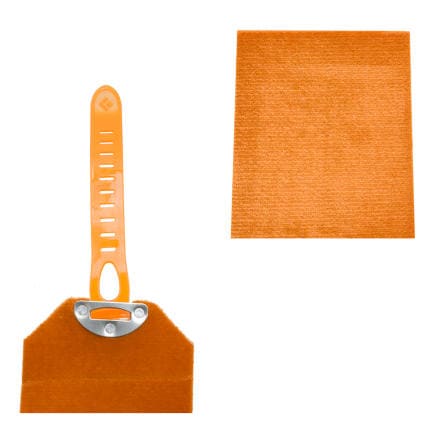 Category: 05 Uphill