Towards the end of the 2017 winter, I started shooting a series of short videos on ski mountaineering skills.  Originally it was going to be entitled "Tips and Tricks" but during a powder session with Andy Jacobsen and Noah Howell, two of the original PowderWhores founders, it became "Just the Tip" with an intro suggested by Noah.  You can take the PowderWhores out of video production, but you can't take take their minds out of the gutter, which is why I love them so.
The series is based on the idea that the average ski mountaineer has an attention span of less than one minute and can only process one thought/tip at a time.
Shorten your poles down for steep skinning so you can get on top of them and push instead of pulling.

How to clean your skins if/when they get ice or snow on the glue.  With Todd Offenbacher in the Wasatch Mountains, Utah.

How to do a very quick Extended Column Test (ECT).  With Mark Sedon in Gulmarg, Kashmir.

The Secret to Skiing in a Whiteout.  With Mark Sedon and Sam Dunlop in Gulmarg, Kashmir.

Stripping Skins Without Taking Your Skis Off.  Videography and heavy breathing by my wife, Polly.

Speed Buckle Your Boots – Do it all at once and avoid bending over multiple times.

The Essential Ski Mountaineering Puffy Jacket with Joe St. Onge in the Patriot Mountains of Idaho.

The Poor Man's Ski Crampon with Tyson Bradley in the Patriot Mountains of Idaho.

Comments and suggestions for improving the series are most welcome.  Thanks!
________________________________
Help support StraightChuter.com and buckle up with a pair of Scarpa Maestrale Alpine Touring Boots ON SALE NOW at Backcountry.com. Click on the photo below.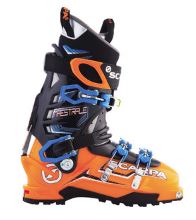 Category: Just the Tip