It's a sign of the times when you attend an avalanche workshop and the topics include getting thrown in jail and/or sued for backcountry skiing.  Both of these topics, and a few others, were presented at the 2012 Utah Snow & Avalanche Workshop last Saturday.
The getting thrown in jail part obliquely had to do with the conflict between Dawn Patrollers and the Utah Department of Transportation (UDOT).  On days when UDOT is blasting Little or Big Cottonwood Canyon, a single Dawn Patroller climbing up one of the major avalanche paths that threaten the roads can completely shut the artillery program down. Shutting the roads down on big three-day weekends with good weather and new snow  is  worth millions of lost dollars to the resorts. To me, the ultimate solutions seems to be an avalanche-proof road or transit system, but in the meantime, an SLC ordinance is being enforced to keep the public off of public land at inopportune times.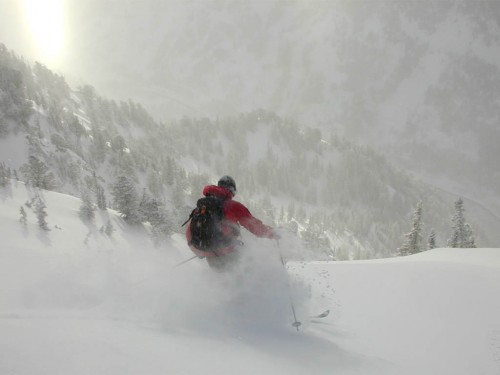 Little Pine Dawn Patrol, aka the Jailhouse Blues.
The getting sued part started with the Taylor Mountain incident and expanded into the general issue of crowded backcountry skiing areas.  The obvious solution here is to avoid crowded areas, but the reality is that if you only have a few hours and want to get the best bang for your hiking buck, the choices may be limited.  In the case of Teton Pass, Jay Pistono estimated that it had more annual traffic than a small midwest ski resort, which I'd agree with in the case of some of the more popular Wasatch trailheads. Between sidecountry, slackcountry, dawn patrollers, one & done'rs and trad touring, plus all of the other hikers, bikers, snowshoers and flower sniffers, there is a shitload of people in the frontcountry nowadays, which causes all sorts of social (ie: legal) issues.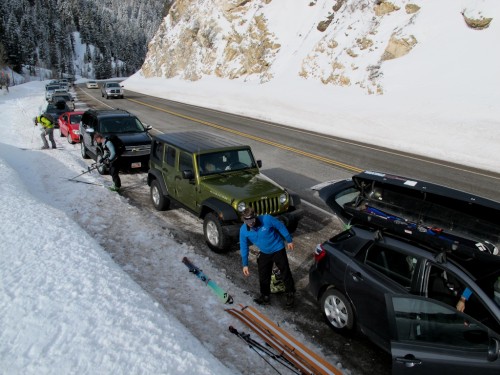 Kindred spirits or legal nightmares?
Rick Mrazik, an attorney who works for Three Dead White Guys Law Office, had a great presentation on the reality of getting sued for triggering an avalanche on top of someone else in the backcountry. According to Rick, a huge part of getting sued or not would first depend on how big a dickhead you are (my words, not his). If you are a belligerent, unapologetic a-hole after the fact, the victim, or victim's family, is much more likely to sue you.  Whether they win (unlikely) or not is almost irrelevant compared to the legal fees you could incur, especially if there's a homeowner's insurance policy or family money involved. In the end, the attorney's would be the main winners, and to protect against this, you can now buy a customized insurance plan from XInsurance, who was the main sponsor of the workshop. This is an interesting conundrum – if you buy this type of insurance and have an incident, you are probably more likely to get sued just because you are insured.  If you don't and get sued, you get wiped out. As always, being broke, uninformed and clueless seems to be your best defense.
________________________________
Help support StraightChuter.com and have a pot to piss in with a Cleanwaste Pee-Wee Urine Bag – 12-Pack from Backcountry.com. Click on the photo below…

Category: Random