Lenticular clouds are a source of awe and terror for mountaineers.  Awe as they are so surreal looking that they have been mistaken for UFO's and terror as they signify ripping summit winds.
Courtney Phillips ponders his options as a lenticular cloud forms on the 12,800′ peak of Mt. Crossen.
Patagonia is a contender for the some of the best lenticular clouds in the world, but in the US, Mt. Shasta has some of the most consistent and unique lenticular clouds around.  Lenticular clouds are particular to mountains as they are formed by water vapor being condensed or squeezed out of the atmosphere as it passes over high peaks in high winds.  In mountaineering terms, lenticulars are warning signs as you can have almost no wind down in the valleys, yet if there is a lenticular cloud on the summit… rat-a-tat-tat hang on to to your hat!  The higher you climb, the windier it will get.
In the case of the video below, we started up Mt. Crossen in fairly nice weather, then halfway up, a lenticular cloud started to form on top of the peak.  Hmmmm.  We kept climbing as there was the option of dumping our loads and coming back for them later, but fortunately the strong winds just held steady and didn't increase.  It is hard to see, but at the summit we are actually in a lenticular cloud, which, like the eye of a hurricane, doesn't seem so bad.  The winds were probably in the 30-40 mph range, which is annoying, but not too bad. I wouldn't make a habit out of climbing directly into lenticulars, but in this case it worked out and was actually kind of fun.
________________________________
Help support StraightChuter.com and measure the windspeed with a Brunton Atmospheric Data Center on sale now at Backcountry.com. Click on the photo below…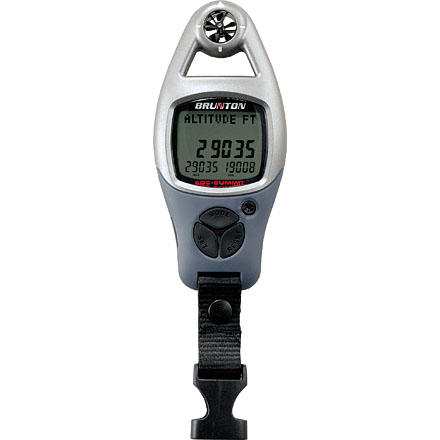 Category: Trip Reports