When I was into Alpine Racing, one sign of how serious you were about the sport was if you went to the trouble and expense of getting custom made orthopedic footbeds. The idea was that you wanted your foot perfectly supported, but more importantly, totally flat so you weren't inadvertently riding an edge. We were all convinced that our feet were freaks of nature, but I've come to realize that I have pretty normal feet and that everyone thinks his/her feet are weird.
The custom made footbeds didn't do squat for my racing, but I did love the perfect fit I got out of them. When they finally died, I was psyched to find that the off-the-shelf Superfeet insoles were at least as good, if not better.  They were definitely cheaper.  A nice feature of Superfeet is that they come in a variety of sizes and shapes so you can most likely find something to fit your foot.  Between these and thermoforming liners, I haven't had a blister from my backcountry boots in years.
Some BC boots come with high-end insoles and some don't.  I've heard that the BD boot insoles are almost carbon copies of the Superfeet, which is great if they fit your foot, but a bummer if not as you then have to pitch them and get new insoles anyway.
Unlike Alpine skiing where your foot is mostly static, in the backcountry you are doing a lot of striding, stomping, skiing, walking, etc., so you want a durable insole.  I usually buy the green Superfeet insole, but recently they came out with a skiing version, which is not only a sexy red color, but it also has foil on the backside to help reflect heat.  I've found I can get many (six or more) seasons out of a pair of insoles and usually swap them up whenever I get a new pair of boots.
________________________________
Help support StraightChuter.com and slip into some sexy, red Superfeet Premium Insole from Backcountry.com. Click on the photo below…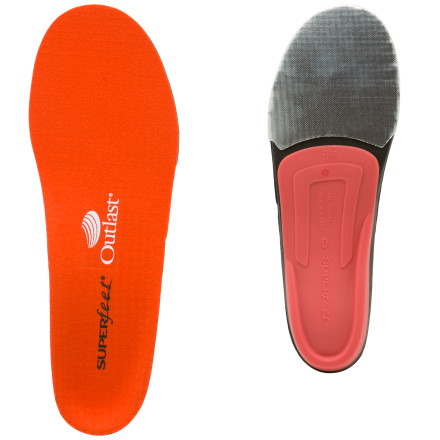 Category: Gear Reviews