This is a semi-complicated story (details below), but the fate of 600 acres of Forest Service land along the Park City ridgeline is being discussed on Wednesday, June 17th by the Summit County Council. If you care about areas like the Monitors, Dutch Draw and Murdock Peak, it is imperative that you make your voices heard by either emailing the collective County Council at countycouncil@summitcounty.org or attending the public meeting at 4:00pm at the Sheldon Richins Building (aka, the Summit County Library). Let them know that you want the land included in the Mountain Accord Designation of Federal Lands and do not want it exempted from this.
A few key points:
– This 600 acres is all that remains of public Forest Service property in the Central Wasatch of Summit County.
– This 600 acres is surrounded by 7,300+ acres of privately held terrain in the Park City Mountain Resort and Canyons. These two ski resorts, which are now one, represent the largest ski area in America. Enough is enough.
– For 2014/15, skier days were down in Utah, but the resorts made record profits. The resorts do not need more public land in order to make more private money. They are doing fine as is.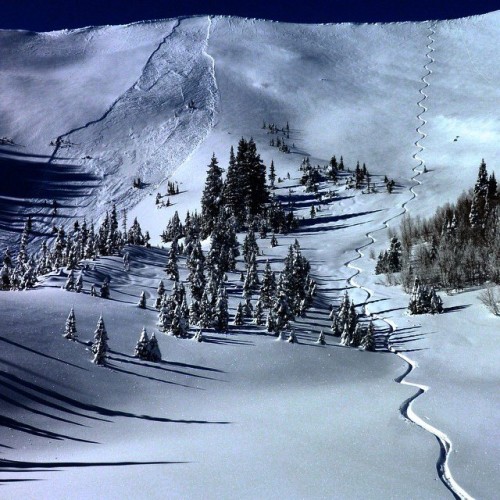 South Monitor Bowl – one of the three areas threatened by lack of protection.  Photo by Mark White
The Details
One component of the Mountain Accord process is preservation of the public lands in the Central Wasatch Mountains, which mainly refers to the Forest Service lands in Little & Big Cottonwood Canyons and Mill Creek. These lands are worth preserving for a variety of reasons, including water quality, public access, recreation, wildlife and scenic beauty.  Due to their proximity to developed areas, a large urban population and existing Mountain Bike trails, protecting these lands through Wilderness or National Monument designations is problematic as they don't really fit neatly into these categories.  As such, a new type of protection is being proposed, although the exact name and details have not been worked out yet. All of this is part of a much larger give & take plan where mountain development would be concentrated in resort centers and on private property, while the wide open areas would be left wild. One of the caveats of this proposed protection is that chairlifts/trams/ski runs/etc. would not be allowed on them.
While 90+ percent of these lands are in the Wasatch Front or Tri Canyons areas, three corners of land spill over into Summit County. This happened as the land is platted in rectangular squares which follow the points of the compass, but the Summit County/Salt Lake County dividing line follows a ridgeline which is slightly off axis such that it clips off the corners. The end result is that there is a 14 mile-long ridgeline of mostly private property which is interrupted  three times by chunks of public land spilling over from the backside.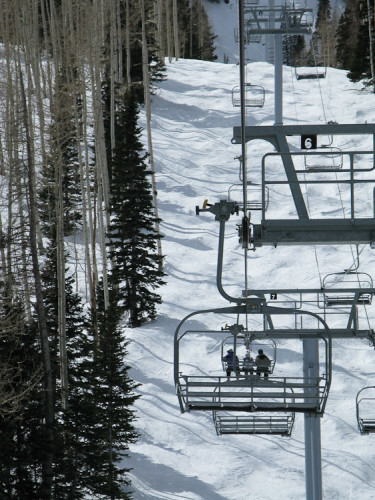 A nearly empty chairlift at Canyons Resort.  For 2014/15, Utah skier numbers were down (again), but the resorts set record profits. Let's keep the Wasatch equilibrium as is allowing the resorts to make all the money they want on their private land, but preserve the last shreds of open public lands as well.
These chunks of public land are an oasis in the middle of heavily developed private ski resorts and have led to some interesting dynamics.  In the case of Peak 9990, a chairlift skirts the edge of the public lands boundary such that you can ride it almost all the way to the top, do a short hike out of bounds through a gate, ski public land and then traverse back in to the chairlift at the bottom. This situation has made 9990 Bowl the most heavily used public backcountry skiing run in the USA.  As uncontrolled public backcountry terrain, there is no avalanche control work, which has resulted in a few deaths over the years and some of the local mega-mansion owners creating huge earthworks projects to try and divert slides from hitting their humble abodes.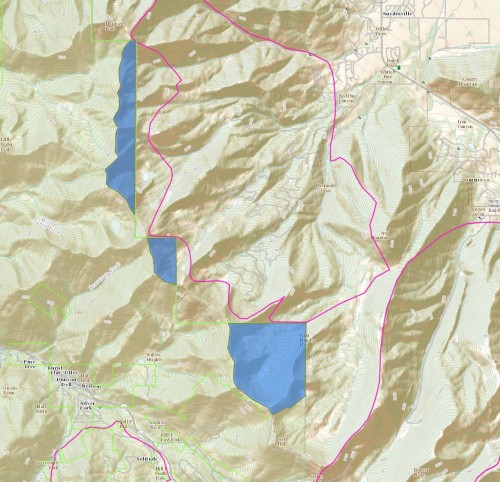 In blue, the areas in question.  From top to bottom: Murdock Peak to Desolation (appx 250 acres), Dutch Draw (appx 50 acres) and Monitors (appx 300 acres).
As these beloved lands were being considered for special protection through Mountain Accord, Summit County was asked what they would like to do with it as the land falls within their jurisdiction and they are a Mountain Accord stake holder.  As the rumors go, they didn't have a real opinion on it, so they deferred the question to one of their biggest tax payers and the tenants of the surrounding land: Vail.  The resorts of course are not keen on any kind of protection which limits placing chairlifts and cutting runs.  Regardless of whether the current Forest Service would ever allow this, without some sort of long range protection, the destiny of this land will always be in jeopardy.
________________________________
Help support StraightChuter.com and see through the consusion with a pair of Julbo Revolution OTG Goggles from Backcountry.com. Click on the photo below.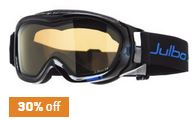 Category: Announcements, Wasatch Mountains