Drying gear out before putting it away is one of the best and easiest methods of preventative maintenance. This is often easier said than done as the last thing you want to do after getting back late at night from a wet weekend is spend another hour finding places to hang your tent, sleeping bags, pads, skins, etc..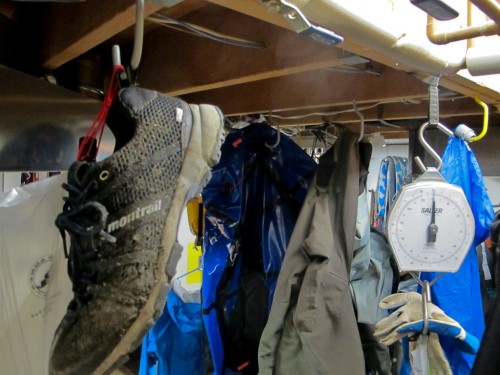 The answer to my drying prayers came to me one day during a visit to Home Depot when I came across a package of 12 bike hooks for something like $8.00.  I didn't really need 12 hooks, but after the effort of finding a stool, pre-drilling a hole in a shop ceiling joist, putting one hook in and then cleaning everything up, I decided to grid-bolt my shop ceiling with cheap bike hooks.
At last count, I think I have about 20 hooks and while they are vacant most of the time, after coming home from a trip, they make it very fast and easy to pull stuff out of a pack and hang it up to dry.  A few days later when I finally get around to putting everything away, it is all dry and ready to go.
________________________________
Help support StraightChuter.com and keep it dry from the start with a SealLine Boundary Dry Pack from Backcountry.com. Click on the photo below…

Category: 02 Gear, Gear Reviews