Yes, Straightchuter.com is willing to take on the tough reviews that are too complex and sticky for Wild Lou and Randy Steve to even imagine.  Boots, bindings, beacons and skis?  Pffft.  Who needs 'em if your skins fall off in the parking lot?
Black Diamond has had a few bad batches, but for the most part, the glue they use on their skins (Ascension) is killer.  I took this for granted, but came to appreciate it more when a group of European Ski Mountaineering racers came over for the Wasatch PowderKeg and had two unusual shopping requests – Snowclaw shovels and Gold Label glue.  They wanted the Snowclaw shovels as they were the lightest shovel that met the ISMC requirements and the Gold Label because Europe had some sissy laws about using or selling highly toxic chemicals, such as meat-eating skin glue.  Here in Utah we laugh at toxic waste and rejoice at the chance to use products that can cause brain damage in small children.
Gold Label previously came in dainty little cans with a useless brush, but is now available in a tube.  As is says on the box, it intended "For ski skin touch-ups."  I've tried it on skins which have had all of the glue removed, but it seems to soak in to the backing so much that it would take many, many coats to get a working surface.  If I'm completely redoing a pair of skins, I'll use BD Glue Renew and take my chances.  But, for touch-ups, or for putting down a tacky layer on top of wimpy Euro glue, Gold Label works great.
Start with as clean a glue surface as you can.  If you suspect your skins need some extra ummph, don't wait until they are all pine-needled and dog-haired to do it.
It doesn't take much Gold Label to freshen up a pair of skins and I get about three pairs of skins our of a tube.  Once tracks have been laid, spread it thin.
I've found the tails of my skins take the most abuse from being grabbed with gloves, so I lay it on a bit thicker in the ass end.
Gold Label is suppose to dry overnight, or 8 hours, but I've found that the longer they dry, the better, up to about 24 hours.
If the glue is too tacky, try detuning it on a carpet covered in dog hair.
________________________________
Help support StraightChuter.com and get ready for sticky snow season with some Black Diamond Glop Stopper Skin Wax from Backcountry.com. Click on the photo below…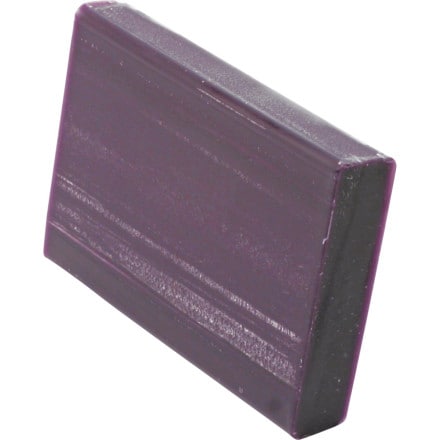 Category: Gear Reviews