Because ski mountaineering is so varied, there is no one single "best rope" out there that covers all the bases.  Sometimes you want a short, light, skinny rope just in case, and other times you need a full length, beefy multi-fall lead line.  In the past I've carried a variety of 60m ropes  based on what I thought the worst case scenario might be.  If there was a chance of having to lead vertical water ice, I'd bring a 9.8mm lead line.  If it was mainly a glacier trip, I'd bring a skinny 7.8mm rope.  There were two problems with this set-up; the first was that if you misjudged the terrain, you were lead climbing on a skinny rope (yikes!) or dragging a huge rope on mellow terrain.  The second was that you were always coiling/uncoiling and carrying generally more rope than you needed.  30m ropes are great for ski mountaineering, except when you need 50m.
On our recent trip to Antarctica I ended up bringing two 30m ropes of different diameters and was very psyched on the flexibility of the system.  Glacier travel with 4-5 people on a 30m rope makes for some tight spacing, but then again, it depends on the terrain. Antarctica had lots of crevasses, but they weren't the Mack Truck swallowing monsters that you can get up in Alaska, so the tighter spacing meant better communications and less rope work.  We used the Sterling 9.2mm Fusion Nano most of the time and swapped out carrying the lighter 7.8mm Sterling Fusion Photon as needed.
For skiing, it's nice to have two ropes as the first and last person can both carry one.  It doesn't matter how long or strong a rope is if the person carrying it falls to the bottom of a crevasse with it.  Some people carry 5.5mm Spectra rope as a "drop cord", but these ropes are so specialized they can't be used for much else.  By carrying two dynamic 30m ropes of different diameters, you can tie them together if you need to extend spacing on a glacier, or for a full 30m rappel.
Another nice feature of carrying two 30m ropes is that you can upsize or downsize depending on the terrain.  Or, if you get to an area where you are just carrying a rope as insurance, you can leave the heavier rope at the bottom and pick it up on the way back down.
The disadvantage of this system is that it is harder to do a full 60m rappel on a single line as you have to pass a knot, and, you can't do a 60m protected lead unless you are willing to run out the first 30m before your first piece. But, these seem like a small price to pay for the vast increase in flexibility, reduction in weight and simplicity of dealing with a smaller amount of rope every time you tie in.
________________________________
Help support StraightChuter.com and tie into a Sterling Fusion Nano AT Dry Rope – 9.2mm from Backcountry.com. Click on the photo below…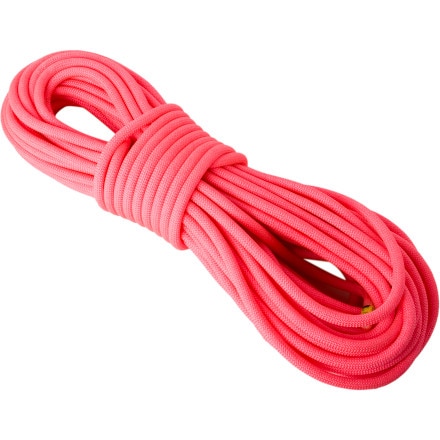 Category: Gear Reviews