Antarctic Peninsula Ski Gear
The following gear list is for boat based skiing trips (like the Ice Axe Expeditions Ski Cruise) to the Antarctic Peninsula. It does not include any camping or expedition gear as none is needed. All of the skiing photos below were taken on the Antarctic peninsula.
Disclaimer:  My gear recommendations are based on personal use and my personal use is based on the companies I work with. There is a lot of good gear out there and these specific suggestions are meant more as a general guide for the type of item to look for.
Ski Gear
Antarctica is the driest of all seven continents, which means north-facing corn and recrystalized snow are more common than deep, fresh powder.  As much of the coastline is guarded by rocks and ice cliffs, finding a way onto the shore is often a major challenge, which in turns means you may have to travel/tour quite a distance from your landing site to where you want to ski. Because of the anticipated firm snow and longer approaches, a lighter set-up and slightly narrower ski works well down there.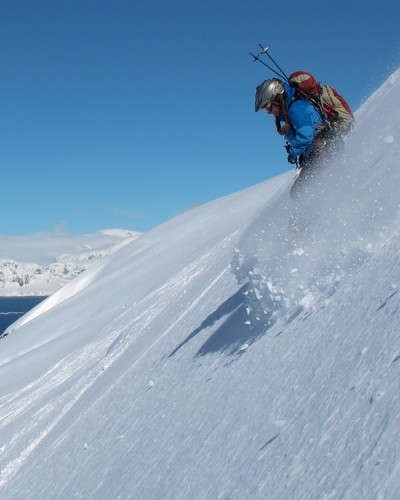 3-4 inches of recrystalized powder is quite common in Antarctica.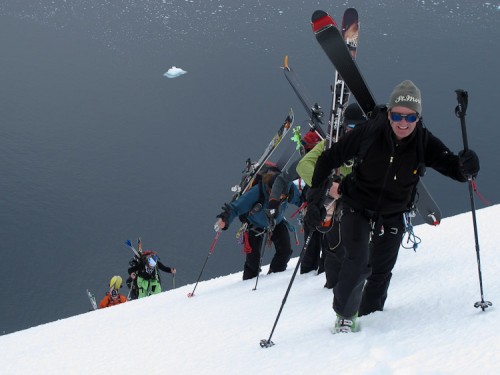 Skiing in Antarctica requires a mix of skiing, skinning, booting and cramponing.
Skis – Black Diamond Current– 176cm (118/86/106)
This is a fairly light, good all around ski.  Nothing too fancy or specialized and it works well in all conditions, but especially corn and firm snow. It is also durable, which is a big consideration when going to Antarctica – you don't want your skis to break as you'll have a hard time replacing them there!

Bindings – Dynafit Radicals or ST Verticals
Pretty much THE binding for touring.  The Plum's are nice if you can get/afford them, but they are basically the same thing. As an added benefit, due to the simplicity, minimal number of parts and high-quality material, Dynafits are less susceptible to the corrosive effects of salt water than other more complicated bindings. This is an advantage in places like Baffin Island, Svalbard and Iceland as well.  I'd be leery of superlight race bindings as they may not handle all of the travel and Zodiac loading/unloading.  I prefer ski brakes on mine, as much out of habit as anything else.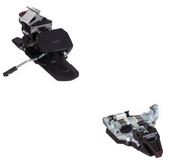 Boots – Black Diamond Quadrant
A good solid boot with all-day comfort, durability and free from blisters is essential. Due to the remoteness and consequences, I ski much more conservatively in Antarctica, so I don't feel I need a huge, stiff, "performance" ski boot down there as I'm seldom, if ever maxing it out.  Conversely, the ability to tour long distances over a variety of terrain is essential and any of the boots below will work well.
Poles – Black Diamond Whippet Self Arrest Pole
A perennial favorite of mine, in part because I designed them many years ago, but I really like the added instant security they provide, as well as a comfortable grip. I go with two of them as that's what I'm used to, but most people only use one. The two-piece is simpler than the three-piece.

Skins – Black Diamond Ascension Nylon STS
For the maritime snowpack and firm snow of Antarctica, I prefer the courser fiber of nylon skins over mohair or mixed. The nylons also take more abuse and they tend to climb better on steeper skin tracks, which are often a necessity in Antarctica. The tip and tail kit is useful for added adhesion on days that involve a lot of skins on/off.  I like to trim my skins with about 3/16″ of edge showing, which is easy to do with a G3 Trim Tool.  Nylon skins also hold up better than mohair to salt water.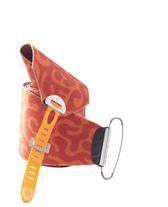 Ski Strap – Voile 15″
There is a lot of loading and unloading of ski gear on the Ski Cruise, so it helps to have at least one, if not two Voile straps to keep your skis and poles together in a nice tight package. I like the longer ones with the metal buckles.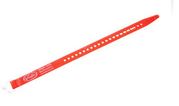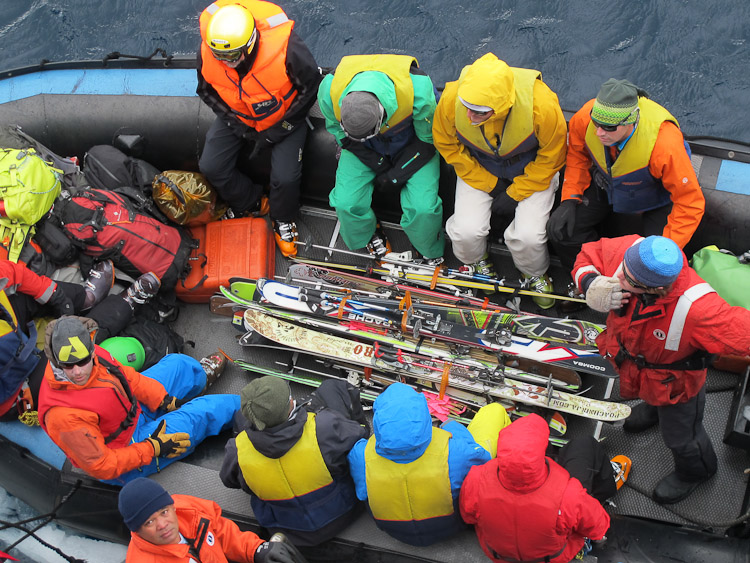 A loaded Zodiac with strapped together skis.
Ski Mountaineering Gear
Much of the Antarctic peninsula is covered with glaciers, crevasses and ice falls, so it is necessary to wear a harness at all times and carry some basic mountaineering gear.
Boot Crampons – Black Diamond Neve Pro with ABS plates
Aluminum 10-point crampons are perfect for this area as they are lightweight and provide instant security on steep, firm snow, especially when combined with a pair of Whippets. I like the clip-in version as they are faster to get on/off, are more compact and have a trimmer profile than the strap-ons. The downside is that they are harder to adjust, but unless you are sharing them or changing boots, that is something you'll only have to do once.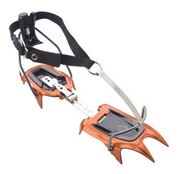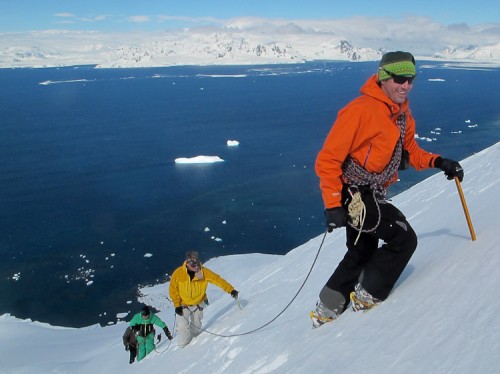 Classic 10 pt aluminum crampon terrain – steep snow.
Ice Axe – Black Diamond Venom Hammer
I prefer a "technical" ice axe over a piolet as you can actually climb with them rather than just using them as a plunging stick or for self-arrest, which doesn't work very well with skis on your feet anyway. The Venom is a little heavier than something like the Raven Pro piolet , but is much more versatile, especially when it comes to swinging them into ice or firm snow.  On hammer vs. adz, I prefer the hammer as it doesn't rip up your clothes as much and is better for pounding in snowstakes.  A leash is essential and the BD Venom comes with a LockDown leash included.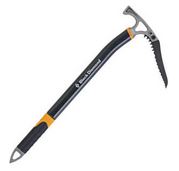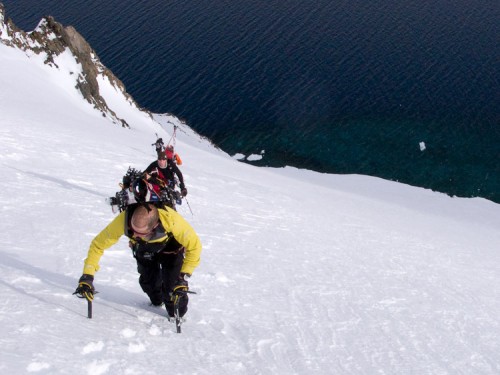 Kip Garre using two BD Venoms in Antarctica.
Harness – Black Diamond Alpine Bod Harness
Probably the least sexy and most old skool harness on earth, but it works perfectly for ski mountaineering.  The simple gear loops hold all of your glacier kit, the "diaper seat" design means it can be put on while wearing skis, the lack of padding (which you get from your ski clothes anyway) means that if the harness gets wet, it doesn't stay that way for long, and because there is no belay loop, it means you can drop your leg loops to answer nature's call while still staying tied into the rope.  And it's cheap.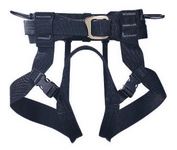 The Black Diamond Couloir Harness is a nice updated version of the Alpine Bod, but it comes with a belay loop, which I'd personally cut off.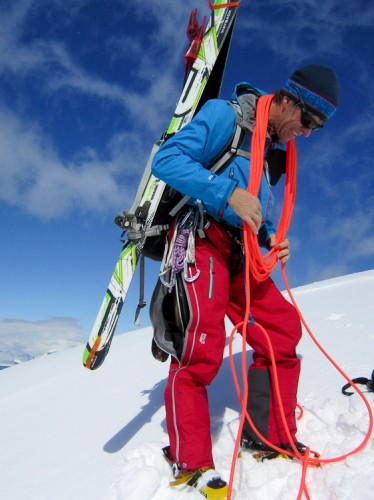 BD Alpine Bod harnesses are discrete and versatile.
Locking Carabiner (3x) – Black Diamond Nitron Screwgate
Locking carabiners are great for clipping into ropes, setting up z-drag rescue systems or even just as a regular carabiner. I like the BD Nitron as it is a bit on the smaller side, has a hot forged body which makes it light & strong and has a keylock nose which doesn't hang up on gear. It also has a nice screwlock mechanism that can be operated with gloves/mittens and is less prone to jamming than fancier locking mechanisms.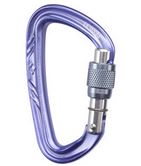 Standard Carabiners (2x) – Black Diamond Neutrino
Thin, low profile, lightweight and strong. Everything you need in a general purpose glacier carabiner.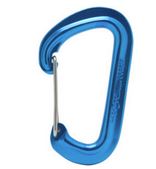 Double Length Runner (1x) – Black Diamond Dynex Sewn Runner – 120cm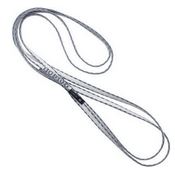 Short Prussik Loop (1x)
These can either be tied with a Double Fisherman's knot from a length of 1.5m x 6mm perlon accessory cord, or purchased as a pre-sewn unit, which is nice and clean.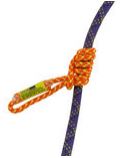 Cordelette (1x) – Edelweiss Edel Precut Cord – 5mm x 5m
This is used for a variety of purposes from rigging and equalizing anchors to tying gear together.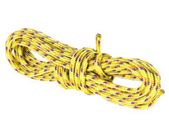 Ice Screw (1x) – Black Diamond Turbo Ice Screw – 16cm
In the unlikely event that you fall into a crevasse, having an ice screw handy means you can immediately secure yourself to the wall which will help with the extraction.  I like the simple BD Turbo screws for this purpose instead of the heavier and more complicated BD Express screws, which are more appropriate for ice climbing.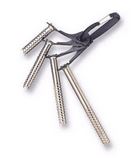 Avalanche Safety & Packs
Ushuaia has lots of sports stores, but they tend to be more trekking oriented, so it might be hard to get an airbag canister refilled after an airplane flight or buy a new one if you are bringing an airbag pack.
Pack – Mountain Hardwear Summit Rocket 30
This is admittedly a very minimalist pack, but that's what I like about it, especially for day ski trips.  It is also fairly water repellent, which is nice for the Zodiac rides.  The Summit Rocket has straps for carrying skis and ice axes, as well as a minimum amount of pockets for organizing gear. There is also a 40 liter version of this pack.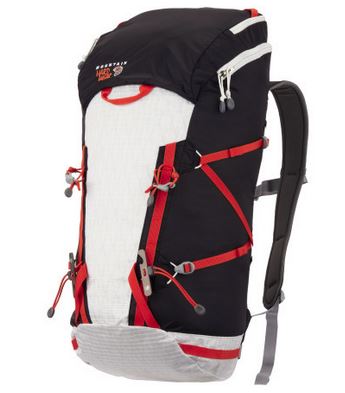 Avalanche Transceiver – Pieps DSP
This is personal preference as I've used Pieps beacons forever and am used to them.  Any of the top brands (Pieps, BCA, Ortovox, Barryvox) are good.
Shovel – Black Diamond Transfer 7
A simple shovel with a metal blade.  Good not only for avalanche rescue, but also for digging "launch platforms," auguring through snowbanks to get ashore, or digging pits.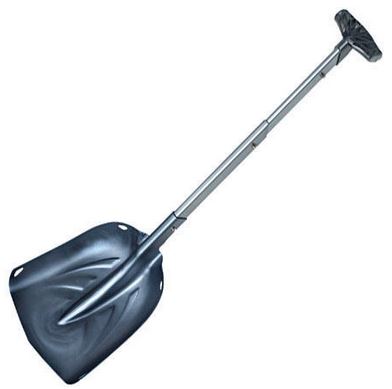 Probe – Black Diamond QuickDraw Tour Probe 190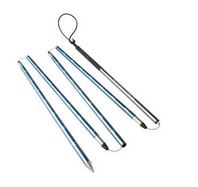 Clothing
Although it is Antarctica, the weather and temperatures on the peninsula in November are relatively mild as it is the beginning of  spring in the southern hemisphere and the skiing terrain is right at sea level.  In general, it is about as cold as an average day of winter touring in the Wasatch or Tetons, but it feels damper as it is right on the ocean. Huge puffy down jackets and extreme cold weather gear is more appropriate for the interior of Antarctica where it is much colder and drier, but for the coast, good waterproof outer layers and synthetic insulation works better.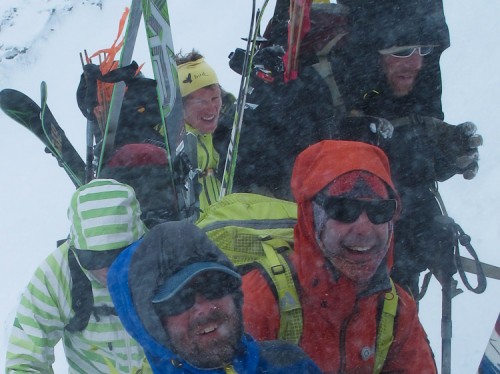 This is the type of weather you should dress for – windy & snowy and long tours.
Zodiac safety is one of the main determining factors on whether or not we ski on any given day and if it is too windy (which might flip the Zodiac) or there is very bad visibility, we may not make it out. That said, 85% of my days down there have been variations on clear and sunny.
General touring base layers vary widely with each individual, but here are a few recommend specialty items:
Shell Jacket – Mountain Hardwear Drystein II Jacket
This is a lightweight, highly breathable, simple and well made jacket (I think it is the Ice Axe guides jacket for 2013) and it happens to be on sale for 55% off right now.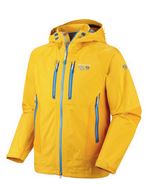 Shell Pants – Mountain Hardwear Hestia Pant
A good compliment to the Drystein Jacket – simple, full length side zippers (good for venting), powder cuffs and high quality breathable material.  Great for touring in.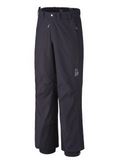 Insulated Jacket – Mountain Hardwear Thermostatic Jacket
This is a nice all around synthetic insulated jacket with a wide temperature range.  It can be worn around town in Ushuaia, inside a shell jacket, or on the outside.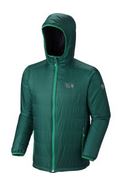 Gloves & Mittens – Mountain Hardwear Spearhead Mitt and Typhon Glove
It's a good idea to bring two pairs of gloves or mittens as the weather can rapidly change and handwear can get wet on the Zodiac ride in. Gloves or mittens with a good waterproofing membrane are highly recommended.
Rain Slicker
Sometimes the Zodiac rides can be wet from spray or waves, so it is a good idea to have a cheap set of rain jacket and pants.  I'm a men's medium, but for this I have a men's XL so I can get it on and off easily over the top of everything else.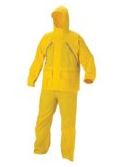 Miscellaneous
Waterbottles (2x) – 1 liter/32oz Nalgene
I generally don't ski with Nalgene bottles or even really like them, but for Antarctica they are nice as you can fill them up with hot water and have tea, plus they are easier to clean out if you are mixing in sports drinks every day.   Instead of a thermos, I bring a water bottle parka which will keep a Nalgene bottle warm most of the day.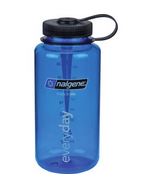 Sunglasses – Julbo Explorer Sunglasses
It can get really bright on the White Continent and having a dark glacier lens is like having cool cucumbers on your eyes. The Julbo Spectron 4 lens is as dark as they get.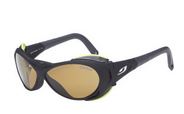 Goggles – Smith I/O Interchangeable Goggle
I generally ski in sunglasses, but for flat light (as can often happen in Antarctica and Argentina), the Smith I/O lens is excellent.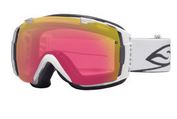 Optional
Helmet – Black Diamond Vapor Helmet
Good for both climbing and skiing, plus it is ventilated enough to skin in.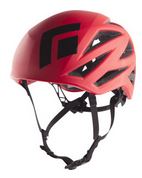 Ski Crampons – Dynafit Crampons
I seldom if ever use ski crampons, but if there ever was a place where they might be useful, it would be Antarctica.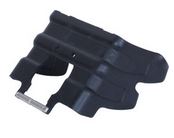 ___________________
Help support StraightChuter.com and get the best prices on the best gear at Backcountry.com! Click the Golden Gear Goat below: