Individually, skis, boots and bindings are important, but a far more significant concept is how they all work together.  I was reminded of this the other day when a friend mentioned that he didn't think his new boots were stiff enough, which may have been the case, but then again, the 125mm waisted skis he was on may have just been too much for them as well.
Even if you buy all top-of-the-line gear, it can still seem "off" if it isn't matched carefully.  A quiver of skis is nice, but a quiver of skis/boots/bindings is even better.  For backcountry skiing, I alternate between three set-up; superlight racing, lightweight all-purpose and the heavy-metal monsters.  I'd be hard pressed to pick a favorite as they all serve such differnt purposes, and in their respective catagories, I think they all ski really well.  On rare occassions I'll use a heavier boot on a lighter ski, which can be fun as you can drive the ski like a nail and make it come around REALLY fast.
When I look at a new skis, boots or bindings, the catagory they are in (light, medium, heavy) is more important than the individual product.  For example, Dynafit TLT bindings (light), Scarpa Spirit 3 boots (medium), and K2 Coomba skis (heavy) are all great products, but would be a horrendous combination.  Conversely, when properly matched, the sum of an assembly of mediocre gear can be magical.
 That said, if it skis good, it is good.  Your mileage may vary.
________________________________
Help support StraightChuter.com and go big with a pair of Scarpa Typhoon Alpine Touring Boots on sale now at Backcountry.com. Click on the photo below…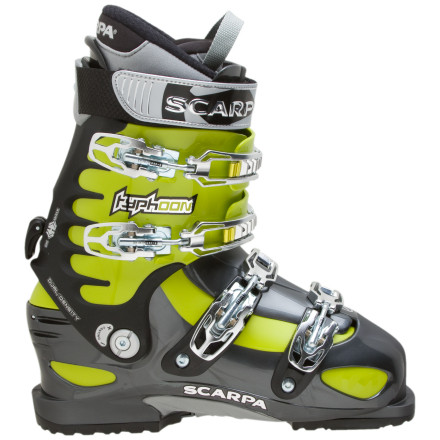 Category: 02 Gear