I feel like I have to wash my hands and confess to a higher authority after recently watching a telemark movie entitled "Flakes" produced by the PowderWhores.  Noah Howell, one of the chief whorelettes and a trusted friend, told me it was a documentary about the heartbreak of psoriasis (which sounded enthralling compared to teleskiing), so I innocently plugged it into the DVD player and gave it a try.
I was tricked.  It is actually a movie about some guys and cute prepubescent free-heel girls (always a big draw with the AT crowd) killing it in the deepest snow I've ever seen under perfect conditions.  Yes, they may be telemarkers, but with some judicious use of ATivo, most of it can be screened out. In the past, PowderWhore (PW) films have been more like "A Dummies Guide to Getting Whacked by Avalanches" (a theme I fully endorse), but in this one, they have bumped the production values into the stratosphere, stayed on top and made a great film.  Damn them – this means they'll be at it again in the Wasatch this season, which isn't that big  deal, except they seem to have contractual rights to rib-tickling, virgin snow on blue bird days.  It was pleasantly ironic to see that the worse conditions of the entire film happened in what most film makers save as their piece du powder resistance, Alaska.  Haha.  If it's waist deep, it didn't make the cut.  As far as ski porn goes, this is literally over the top with more faceshots per minute of any film I've ever seen.  View the trailer here.
It is getting tough to make a unique ski film nowadays and you almost need to light yourself on fire and do a big backflip off of a huge cliff (oh wait… that's been done) to stand out.  To counter this, the PW's have added cool little filming nuances like portable backcountry camera trollies and mini HighDef electric helicopters to spice up the visuals.  It is a small detail, but between this and the tighter editing, "Flakes" looks like a real ski film.  I'm almost bummed to have seen the DVD as now I have less incentive to attend the GRAND WORLD PREMIER at Brewvies in SLC, which is always a good party with a lot of stoke.
As a humorous aside, the deepest of the deep and the bluest of the bluebird sequence was nailed by Noah, who is also the Editor, Director, Promoter and Marketing Director of the PowderWhores. Stand aside skidders, I'm going to ski this one. I don't think I saw anything below his elbows for the entire sequence and it made me twitch with pre-season anticipation.  The night skiing sequence was also very cool, although the shots were understandably short.  I suspect next year they will figure out a way to shoot all of the South Face of Superior in total darkness.
I suppose opinions will vary on this, but I personally liked the lack of pretension and self deprecating humor of this film.  This is a group of friends out cruising around the world, hiking for turns, skiing deep powder, laughing at non PC jokes about whale vaginas and having fun.  It is hard to go wrong with a formula like that.
Overall, it gets my highest PowderWhore rating yet – whore-able and deep-lorable, which is all you could ask for in a ski film.  Two tips up. In a stroke of marketing genius, you can even get it on-line by ordering here.
________________________________
Help support StraightChuter.com and be as soft and cuddle as a teleskier in a Mountain Hardwear Monkey Man Fleece Jacket from Backcountry.com. Click on the photo below…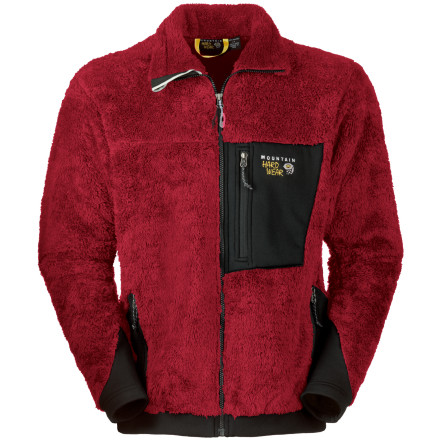 Category: Commentary