Within any single backcountry ski run there usually exists multiple options for skiing more or less avalanche prone terrain.  On the first run of the day, I've often formed an opinion on the snowpack by doing mini tests and making observations on the way up (as well as reading the UAC report in the morning), but until I've actually made a run, I like error on the conservative side whenever possible.
Here's a photo of our first run of the day on Nov 27th.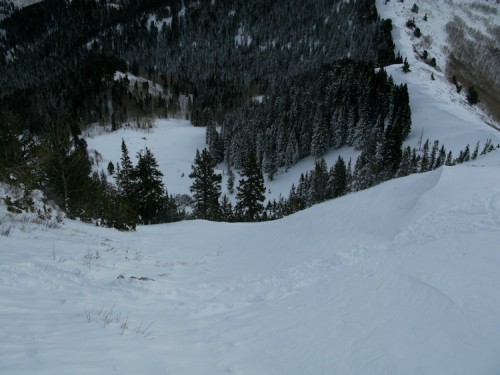 The danger was rated "moderate" that day and we didn't see any signs of instabilities on the way up, including stomping a few cornices.  But, there was some obvious wind transport going on (see scoured slope to the right) and some fat wind-loaded pillows that didn't respond to ski cutting.  That center to right-side line looks pretty tasty, but I'd avoid it, especially for a first run.
Another thing I didn't like about that rightside line was that it had rippley snow.  This stuff is kind of spooky as it usually stays in place, but can often times pop loose as an isolated hardish soft slab and although it may not go far, in this case it could carry you into the trees.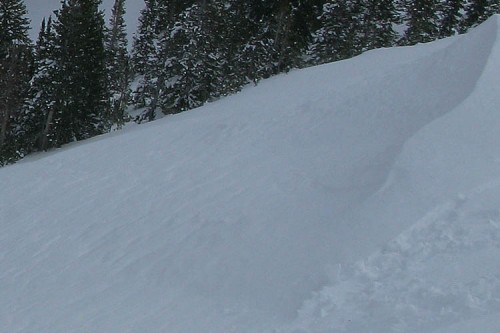 Within this slope itself, I would divide it up into three zones – avoidance red, cautionary yellow and safer green.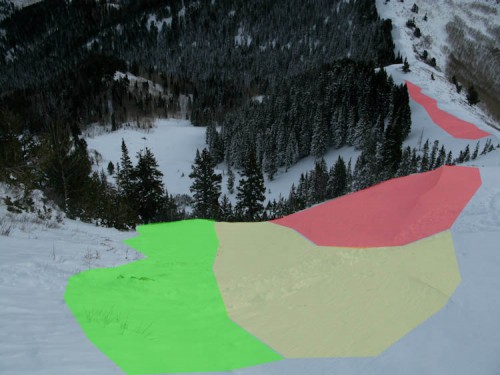 The red slope has the deepest snow and the least escape options if the slope did fracture.  The yellow area has perhaps less rocks, but then again, P-Tex is cheap, so that doesn't matter that much.  The green zone has much less wind loading, thinner snow (not always a good thing) and the option to deek left into the trees if the slope moves, or deek right into the yellow zone if it feels solid.  ("Deeking" is Canadian for turning.)
For the first run of the day, I'd ski a green zone line with lots of ski cutting thrown in, stopping in safe spots a few times to see if there is any delayed reaction cracking or moving and keeping an eye out for islands of safety.  If the first run feels good, I'll spend the rest of the day skiing yellow zone terrain.  Skiing red zone terrain is like kicking the hornets nest – you will eventually get stung and if it is almost the same experience as yellow zoning, why take the chance?
________________________________
Help support StraightChuter.com and tune out the Green Zone dings with a DAKINE Super Tune Tuning Kit – Euro from Backcountry.com. Click on the photo below…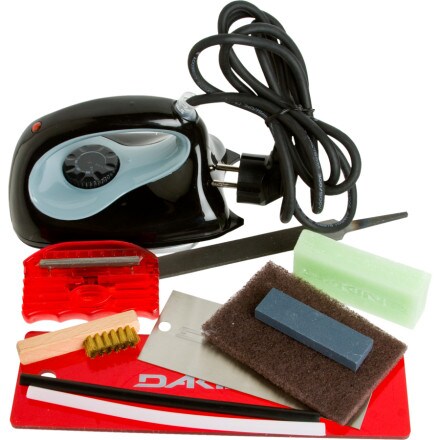 Category: 07 Avalanche Avoidance