I'm not sure what prompted this meeting, but I was secretly hoping that Mike Goar of the Canyons was going to use it as an occasion to admit he had made a horrible mistake with SkiLink, retract the proposal, and offer everyone a free ski and/or bikini waxing at one of the resort's empty facilities.  Sadly, this didn't happen.  What really may have instigated this meeting was underlying premise that it would be a civil and respectful discussion, which it was for all of the 200+ people who showed up for it. Technically, the SkiLink bill expired with the latest Congressional change-over and has yet to be reintroduced, although it very well could be.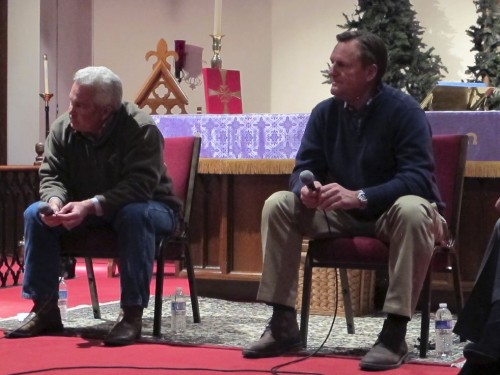 David DeSeelhorst (Solitude) on the left, Mike Goar (Canyons) on the right.
What makes any civil SkiStink discussion difficult is that it is an ever evolving, amorphous, conceptual target.  At first it was supposed to be about transportation.  Then it was about reducing pollution.  Then it was about connecting all of the Wasatch ski resorts.  Then it was about the hallucinogenic  500 jobs, 52 million dollars and 75,000 new visitors it was going to bring each year. Then it became part of a general plan to "Lift Utah" by a group of concerned citizens (translation: developers &  bankers) who are "concerned about the economic future and vibrancy of our state."  If you ask a SkiLink proponent, they will say "Yes, yes!  It is about all of this and more!"  If you ask a SkiLink opponent, they will say "No, no, it is about none of this and less.  It is 100% about Talisker selling more condos."
Personally, I hate to see any of the discussion even drift into potential construction details like roads, evacuation or "glide paths" as that can all be easily dismissed with empty promises. To me, it is like pregnancy and the act leading up to it – you are either in or out, and once the deed is done, you are going to live with the results forever after. Painting the towers white is not a compromise, nor is changing it from a tram to a gondola or chairlift. It is an irreversible all-or-nothing project which sets a horrendous precedent for development in the Wasatch.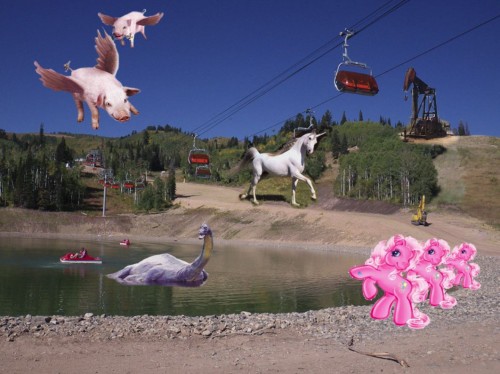 An artist's sketch of the proposed construction techniques and environmental enhancements of SkiLink.  Tower pads will be excavated by velvet-footed unicorns and then the towers will be flown in my winged pigs. Water for the cement will be provided by local indigenous lake serpents.  All construction will be monitored and certified by a team of highly trained Pretty Ponies. The ridgetop transfer station will blend in with the natural surrounding environment, while using discrete hues & tones from Park City's historic mining past.
Image provided courtesy of The Coalition for Citizens Group Health, Prosperity and the Reduction of World Hunger Through a Better Understanding of Resort Expansion.
As an open mic public meeting, I had about 50 questions I would have loved to ask, but had to narrow it down to this one: If connecting all of the resorts is so important, why hasn't the low hanging fruit already been picked, such as connecting Deer Valley to Park City Mountain Resort (separated by a ropeline), connecting PCMR to the Canyons (separated by a thin strip of private property), or connecting Brighton and Solitude (joined boundaries)? Dave DeSeelhorst of Solitude summed it up nicely:  "We are all competitors."  Mike Goar said something along the lines of "Uhmm, good question and that is something we'd really like to do."
The reality is that giving up another 30 acres of public land, or 30,000 for that matter, is not going to force the Wasatch ski resorts to magically interconnect.  The resorts themselves are the roadblock, and if they really want to connect they should stop stomping their Uggs and wringing their mittens and connect the easy stuff first rather than trying to grab more public land.
________________________________
Help support StraightChuter.com and dig to the bottom of the SkiStink issue with a Black Diamond Deploy 3 Shovel from Backcountry.com. Click on the photo below…
Category: Commentary, Wasatch Mountains