Tune in at 10:00am for the third Chuting Spree Clue – coming soon…
I love attending "First Annual" anything as the events tend to have a great mix of new energy and borderline control.  The Big LePowSki, coming up Feb 26th – 28th in Salt Lake City and Brighton promises to be just such an event.
With Black Diamond as the main sponsor and Backcountry.com filling in on drums and bass, the Big LePowSki is a non-competitive weekend of on-snow education, clinics, freeriding, parties and ski movies all rolled into one.  The basic concept is to invite athletes like Sage, Chris Davenport, Julian Carr, Andy Rosenberg and Jen Berg to give clinics on topics they know and love, like how to throw a 360, Air Awareness 101, Women's Freeheel skiing and how to safely drop a cliff.  I'm slated for an "Access and Ski Steep Terrain" clinic, which at Brighton shouldn't be hard to find plenty of.
For current details, check out http://www.blackdiamondequipment.com/BigLePowSki.  Be there, and catch big air.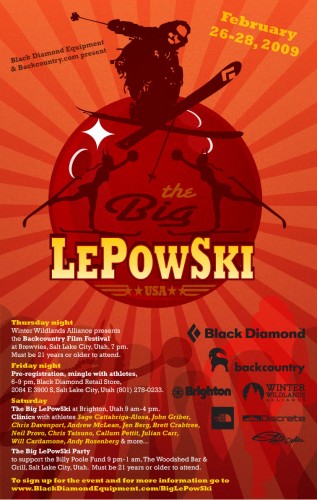 ___________________
Help support StraightChuter.com and get everything you need for the BigLePowski at Backcountry.com!  Click the Golden Gear Goat below:
Category: Announcements