I'm slowly assembling my Antarctica kit and pulled out my favorite glacier rope tonight.  The sad thing is, I don't even know the brand, but it doesn't really matter – what is important is my fast and easy, do-it-yourself modification.  Starting with a 60m dry 9.1mm'ish rope, find the center, apply a sharp blade to it, and turn it into two ropes.  (That is, two 30m ropes, not two 60m 4.5mm ropes.)
There are a ton of advantages to having two similar/identical 30m ropes for glacier travel, but the main thing is flexibility.  You can travel with four people on a 30m, or break into two groups of two each with their own 30, or clip two ends to the middle person and go three or five on a 60, or leave one section in camp if you don't think you'll need it, or coil one 30m section up and bury it in a pack if you are traveling tight and fast… and many other options.  You can also do the same length rappel with as you would anyway (30m) by tying the two sections together.  The one big disadvantage is that you lose the ability to lead 60m pitches with gear placements (the knot won't pass through biners), but that usually isn't a big concern with ski mountaineering.  One the positive side, since 9.1's are a bit sketchy for taking big whippers on (at least mine is), you can double up on the ropes and still lead 30m pitches.
Another option is to get two of the 30m Beal style Rando ropes, although that seems like a bit of overkill, especially if you already have an older 60.  For skinny ropes like this, especially on glaciers, I always use a Munter Hitch for a belay as many of the existing belay devices don't provide enough stopping power with skinnier, wet ropes.
If you try this, be sure and do a deluxe job melting the ends as with 30m of rope, there is quite a bit of stretching going on and a half-assed melt job won't last.  And, yes, cutting the rope in half voids it's warranty.
________________________________
Help support StraightChuter.com and mind the cracks with a Sterling Fusion Ion Single Rope – 9.5mm from Backcountry.com. Click on the photo below…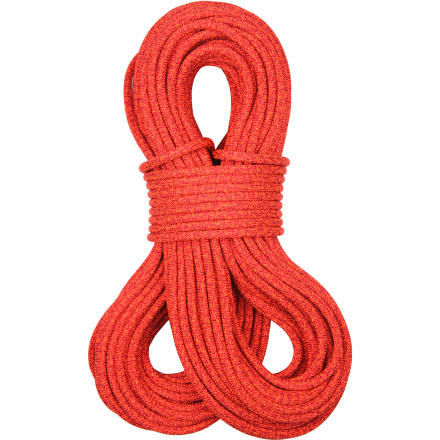 Category: 05 Uphill