I have the same thought every year when I get to line 37 on my 1040 tax form (adjusted gross income) — I need a new job. Ski Mountaineering has its ups and downs (haha..) but it is not a career you get into for the money.  I started my "business" about ten years ago when I published The Chuting Gallery and at times, the financing of it is far more extreme than the actual skiing.  The first year I was in business I only kept track of my sales and not my expenses, which was a rude shock when it came time to pay self-employment taxes.   
I'd say I've come a long ways since then, but I really haven't.  My one formal meeting with a CPA took place midweek on a chairlift at Alta (midweek is a good time to meet doctors, lawyers and CPA's at ski areas).  He summed it up something like this "So, you have a fun job that requires lots of expensive toys and travel, you don't make much money and you want to write the whole thing off on your taxes, right?"  Pretty much.  He then went on to explain how this was very similar to being a photographer where you buy expensive camera gear, go on a trip, shoot tons of photos, and may not sell a single image, or perhaps sell them years later.  For such a fun job, there is a lot of blind faith involved, and from a tax standpoint, what makes the difference is if it is a hobby or a career.
Part of the downfall (haha…) of ski mountaineering is that it is such a small market that there just aren't a lot of options for selling photos, stories or books.  As far as trips go, if you can sell enough photos and stories to break even on expenses, that is a wildly successful outing.  Most of the time it is a losing proposition, which is why sponsors are so important, although I think of them more as "lifestyle enablers."
The taxation crux of all of this is deciding what are legitimate business expenses that allow me to perform my job.  I couldn't survive in my office of choice without a titanium spork, Lexan coffee press, Leatherman Skeletool and beacon, so those fall under "Office Supplies."  A celebratory outing at the Bush Company where future skiing plans are laid qualifies as "Meals & Entertainment."   The really tricky ones (from a moral standpoint) are the big fixed assets.  Dentists need expensive drills and X-ray machines, whereas Ski Mountaineers need expensive kites and helmet cams, right?
That's my story and I'm sticking with it.  I figure all of my tent time will have me well prepared if I get thrown in jail.
________________________________
Help support StraightChuter.com and get use to life in a small, sturdy confined area with a Mountain Hardwear Trango 3.1 Tent from Backcountry.com. Click on the photo below…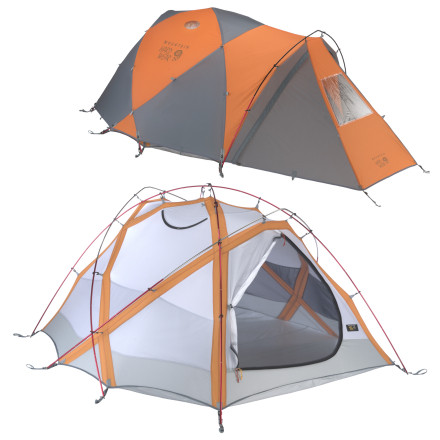 Category: Commentary