Placing wands in the mountains is a bit of an art.  On one hand, you only have a limited number of them, so you don't want to over-place them, and if it is clear and sunny, there is a temptation to skip placing them as the way up and back is obvious.  Because of this, I've often summited peaks with a full stash of wands.  But, when you do need them, like in a whiteout when you are lost, cold and the sun is going down, coming across a well wanded trail is a total godsend.
Through constructing flagging for ski mountaineering races, I've ended up making far more wands/flags than I ever would have thought possible (2,000 or more) and learned what does, or more often, doesn't work for flags or wands. It is actually a little harder than it looks (or I'm a really, really slow learner).
For mountaineering, you want a long staff and relatively small flags.  The long staff helps as it can handle a snow storm without getting buried, will sink further into the snow if need be and doesn't require you to bend over as far to place them, which is a big deal with a heavy pack.  On the flagging, if it is too big, it will flutter excessively in the wind and either break off or pull the stake out. 
My current wand construction of choice is to buy a few 25-pack bags of 48″ bamboo tomato stakes and some bright duct tape.  The duct tape needs to be the burlier cloth back stuff, not the vinyl, which looks like duct tape, but will crack in the cold.  For some reason, WalMart is the colored duct tape capital of the universe, and they happened to have bright orange "Duck Tape" brand tape, as well as the tomato stakes.
At the risk of insulting your intelligence, constructing them is very easy.  You pull off about 8″ of tape, fold it neatly over, slip the skinner of the two ends of the stake in the loop and squish it shut.  Repeat 50 or so times.  How many you make will depend a lot on your route.  Some routes, like Denali, could use quite a few (long route, lots of cracks), but then again, so many people climb it that it is already pretty well wanded.  Wanding is really only helpful if you plan on retracing your steps (like shuttling loads, or for a ski descent), but if you are just moving on, then placing wands is kind of pointless.
Since most people leave their wands with an air taxi service or outfitter when they are done, you can often get them that way as well.  I prefer to make my own as the air taxi service may not have them (good luck finding tomato stakes in Chitina, Alaska), they may charge for them, or they may be the ratty Euro versions.  Another good reason to make & bring your own is that they will hopefully be a distinctive color, which can be important if you inadvertently start following the wrong wanded route. 
As a final wanding thought, beware that everyone tends to place wands a little differently.  I try to find big, obvious, open spots for them and mark crevasses with X'd wands, with the idea being that if I am lost, I'll go from wand to wand.  But, some people use them to mark hazards, which which can be exciting if you are not use to it, as every time you come across a wand, you almost fall into a crevasse.
Okay, one more wand item – they make great supports for drying out socks on a nice day.  And, you can cut them in half/quarters if need be and bury them as T stakes for tents.
________________________________
Help support StraightChuter.com and carry your wands in a superb Mountain Hardwear South Col Pack on sale now at Backcountry.com. Click on the photo below…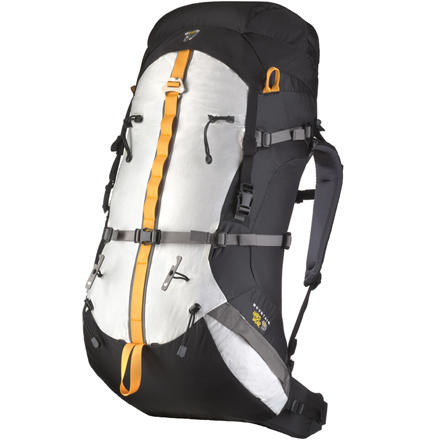 Category: Expeditions