The process of reducing my total backcountry skiing equipment weight is harder than it seems. First, there are times when I definitely DO want the full-monty of safety gear and creature comforts, but it is hard to say exactly when that is.  For instance, during the past few days the avalanche danger in the Wasatch has been High, but instead of needing more safety gear, I prefer to ski low angle terrain and do safe, exploratory tours instead of steeper skiing.  Conversely, when the avalanche danger is low or moderate, I might ski steeper, more exposed terrain, but then there is less avalanche risk, so perhaps I don't need all the extra gear then either..?  Hard to say.
Rather than constantly shuffling gear between packs, I'm putting together two completely separate and different packs – a light one and a heavy one.  May the best pack win.  ;)  The light pack will have a minimal amount of gear, water and food, and will be outfitted for a day of backcountry skiing in the Wasatch, where if you get cold or hurt, you ski ten minutes back to your car and go home.
In the name of weight savings I'm willing to sacrifice a degree of safety (down jacket vs. synthetic, no extra gloves, minimal 1st Aid Kit, etc.,) but there are a few items that are sacrosanct, namely a large shovel and pair of Whippets. I learned the value of a large shovel (G3 AviTech, Voile Telepro, etc) in 1993 when I tried to dig a buried friend out with a tiny mountaineering shovel, which was tragically frustrating.   As for the Whippets, if I could have them surgically implanted in my hands, I'd do it as I use them so often and in so many different ways.  For long mellow tours, I'll occasionally use skinny little carbon-fiber pencil shaft poles with Nordic grips on them, but not that often.  Give me Whippets or give me death.
Next up: the birth of the light pack.
________________________________
Help support StraightChuter.com and put a smile on your face with a Black Diamond Whippet Self-Arrest Ski Pole from Backcountry.com. Click on the photo below…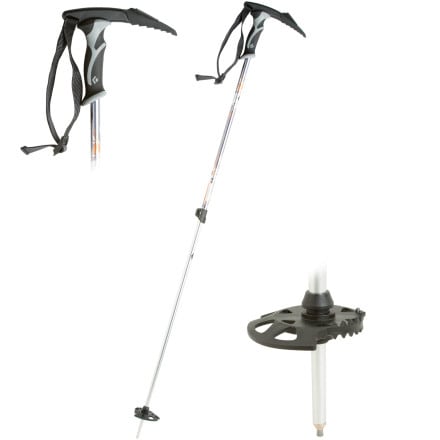 Category: 02 Gear