I have to admit I've pondered this project for at least two years (not full time – don't worry) and had a few false starts.  I've been thinking of a cheap, durable, compact boot dryer which could handle at least four sets of boots and had an easily replaceable heater unit, as that's the part which most often dies. I also wanted something that could be easily disassembled and put away in the summer, as our shop space is at a premium and I didn't want a bulky seasonal item hogging precious floor/storage space.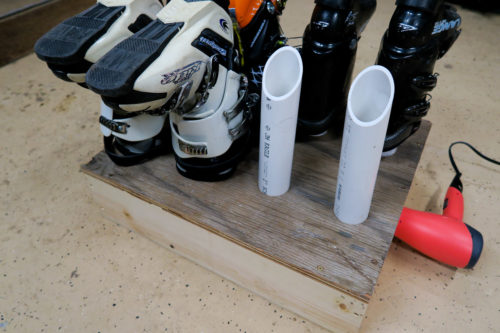 This is basically a wooden box with PVC risers which is powered/heated by a cheap-o hair dryer.  All told, I think the cost was about $30, not counting an existing shop full of tools and shed full of scrap lumber.  It involved a length of 2″ PVC pipe, a 1″ x 6″ x 8′ length of pine and a hair dryer from WalMart.  I chose a Revlon dryer as it has two fan settings and two heat settings. For longer drying, I set it at medium/medium, but if needed, it can be cranked up to high/high for a quick dry or to warm boots up in the morning.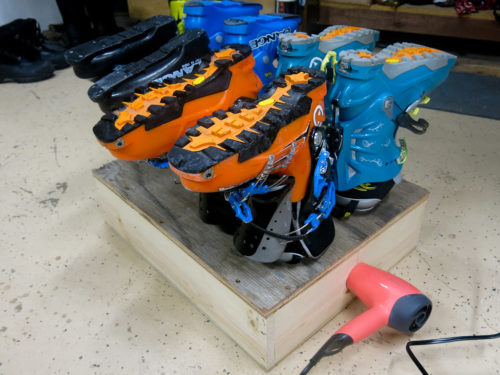 For summer storage (it seldom rains in Utah during the summer), I unscrew the bottom plate, pull out the PVC risers and place them, plus the hair dryer inside, then screw it all back together with 4 screws.  I thought about getting fancier with hinges and clasps, but a screw gun is pretty hard to beat.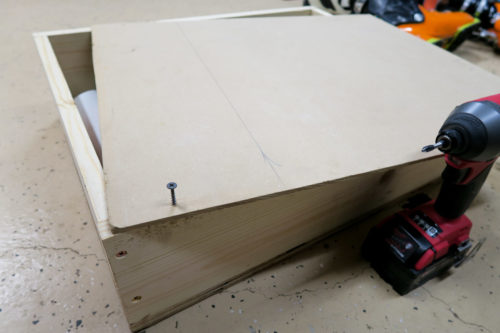 Screwing the bottom down for the summer.  Done.
The plans can be easily scaled up/down for the number of boots you want to dry.  For faster drying, or for more boots, a second hair dryer could be added on the other end.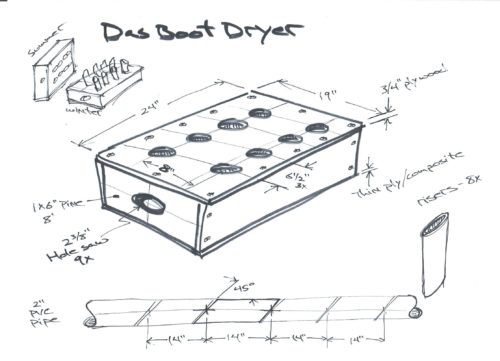 It goes without saying, this is not UL Listed, but I've let mine run for hours with no problem.  If you leave it on high/high for a long time, the PVC risers will warp, but so be it.
________________________________
Help support StraightChuter.com and cut to the chase with a DryGuy Force Dry DX Boot & Glove Dryer from Backcountry.com. Click on the photo below.