Part of the challenge of correctly identifying slope angles by eye is that they often look much steeper when viewed straight-on than they do from the side.  (This is also a good photography trick – shooting straight-on, like from a helicopter or across a valley makes the slopes look lots steeper).  A classic case of this is Mt. Superior, which when viewed directly across the canyon from Alta or Snowbird, looks really steep, but when you actually ski it, it's about like a black diamond run at a resort – not too bad. 
Something to keep in mind is that your angle-sense changes when you move to different areas.  For instance, the snow in Alaska sticks to steeper slopes than in the Wasatch, so all of those little visual clues you subconsciously pick up on are off.  As a result, I often underestimate my maritime snowpack angles and overestimate the continental ones.
Any way you physically measure a slope is better than nothing, although the generally agreed on best method is to sight down it with an accurate clinometer, or get it from a distant side view.  Measuring it directly on the snow, or on a pole on the snow (as shown in yesterday's post) may pick up unwanted dips or roll-overs.  Keeping a compass/clinometer in a chest pouch or front zipper pocket makes it easy and painless to grab a quick angle.
________________________________
Help support StraightChuter.com and measure slopes to the nth degree with a Brunton Clinomaster on sale now at Backcountry.com. Click on the photo below…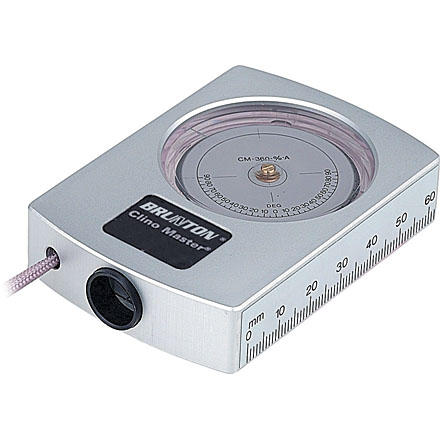 Category: 07 Avalanche Avoidance