Without a doubt, one of the best ski movies of the year is "Deeper" from Jeremy Jones and TGR.  True, it doesn't have any skiing in it, but that's beside the point – the mountaineering and the message transcend the turns, whether they are on one board or two.
I am notoriously bad at forecasting future trends. When a high-end housing development went up across the street with million-dollar homes right up against the freeway in the middle of a barren sagebrush field, I was sure the developer was going to eat it.  Not so – it has been a roaring success. When it comes to forecasting the direction of ski mountaineering, I would have thought that people would take their local skills and then apply them to ever bigger, badder and more remote locations throughout the world, but instead the real growth of the sport (at least economic growth) has focused on sidecountry or slackcountry instead. Huh.
Getting back to the movie, what I liked about it was that it documents what I think is the ultimate progression of the sport. The common thread of the movie is Jeremy Jones who hooks up with various partners around the world to go deeper into the backcountry, both physically and mentally. As the film points out, many of the Valdez/AK lines that were rad 15 years ago are almost like ski resorts nowadays.  They are still great lines, but the adventure is gone. Now, to get that same buzz and rush, you have to go deeper into the backcountry, which most often means climbing under your own power. Machines can get you to the doorstep, but beyond that, you are on your own.
There are a few segments of deep powder porn, but most of the lines they ride are legitimately big, bad, dark and scary. This comes through in the film not only in the POV helmet-cam shots, but also in the rider's comments and riding style which is much more humble and cautious. It is true expedition style backcountry skiing, and at one point just before heading out into the unknown Jeremy says "Wow… I hope this works." which to me epitomizes the entire sport.  Yes, you can get hurt, shut down, stormed out and many other things, but when it is good, there is nothing like it and this movie does an excellent job capturing that spirit.  Another classic comment came after they had suffered through a multi-day storm and when the weather finally cleared they looked up at the spine infested peak above their camp and said "That's the dream – right there." before laying waste to it.
There is a lot to like about this movie and I hope that it is the first of many more like it to come. As one of the first of its kind, it deserves a place along side "The Blizzard of Ahhs" in the permenant collection rack.
As one other sidenote, I smiled to see that almost none of the riders weren't wearing helmets.  Hats off boys.  ;)
________________________________
Help support StraightChuter.com and climb some spines with a pair of Black Diamond Contact Strap Crampon from Backcountry.com. Click on the photo below…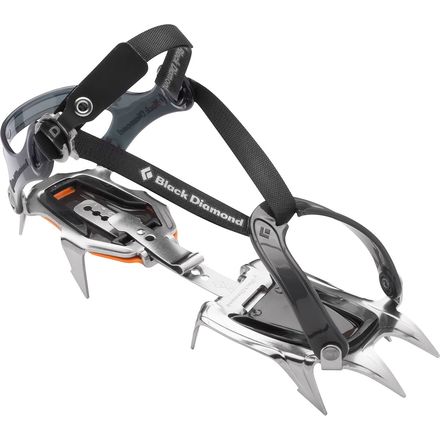 Category: Random