It's about time the Wasatch got some snow, dammit.  It was a mixed blessing to open my garage door this morning and find that the overnight snowfall was thigh deep and over the top of my snow-thrower hood, which necessitated a double pass, which in turn made me late, which led to getting stuck in the Cottonwood Canyons traffuck, and once we finally got to the trailhead almost an hour later, I pulled my beacon out to find that it had been left on and was reading "00" as a power level (details below).  It wasn't a great start to the day, but it soon improved, as photo Exhibit A shows below:
Starting the day with a beacon showing "00" on the power level was not very inspiring, especially on a high/extreme danger day, but it ended up working out fine for two reasons; the first was that we knew it was a dangerous day, so we skied very conservative terrain, and the second was a conversation I had with Michael Schober from Pieps a few days ago at the OR Show in regards to batteries and interference with beacons.
The conversation with Michael started by discussing the "E04" error that at times shows up on beacons.  I use a custom-made chest pack, and as it turns out, placing a metalic item right next to your beacon can interfere with the power of the transmitted signal.  Items like a cell phone (regardless of whether or not they are turned on) can cause problems, but even worse is a dense chunk of metal, like a Leatherman, which is what I often carry.
The topic then turned to battery power, which is one of the main "complaints" about the Pieps DSP.  When you first load a beacon with batteries, it will read 99%, but by the end of the first day it might be down to 85% or something, which seems like it is gobbling through the power.  But, this is not really the case.  Plotted on a graph of power over time, alkaline batteries show an immediate drop in power, hold steady in the mid ranges for a long time, then taper off at the end of their life. Rather than trying to disguise this, Pieps  shows the real power of the battery, but what is not apparent is that even in the single digit ranges (or 00 in my case), per beacon regulations, a beacon needs to run for 24 hours in transmit mode and then be able to perform one hour of searching at a certain temperature.
I usually change out my batteries when they get down to about 40%, although today I skied all day with 00 power and at the end of the day we did a beacon check and it was working fine.  I hopefully won't do that again, but it was interesting to see that it really does work and having battery power as low as the teens is nothing to panic about for a day tour. YBMV (Your Beacon May Vary)
________________________________
Help support StraightChuter.com and go deep with a Pieps DSP Smart Transmitter from Backcountry.com. Click on the photo below…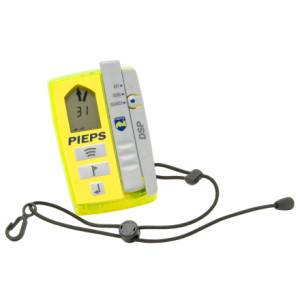 Category: Gear Reviews