The idea of an "avalanche rose" has been around for a while, but has been making its way into avalanche forecasts where it is one of my favorite quick-hit summaries of the current avalanche stability.  The "rose" part come from the concept of a compass rose (north, south, east & west pointers with sub quads) and the avalanche part comes from, well, avalanches.  I like the avalanche rose as it is a very quick, graphical overview.  I wouldn't ski a slope based only on the info gleaned from an avalanche rose diagram, but it would give me a big head-start on where to start looking for trouble or safe skiing for the day.
… the same view through the eyes of the avalanche rose. In the above illustration, the skier probably would have triggered an avalanche up in the red zone.
The avalanche rose is a stylized top view of a mountain which splits the world into aspects and elevations, then assigns an avalanche danger accordingly.  It is a rough estimate and not like you can suddenly cross the 10,000′ foot line, or from NW to North and have the danger dissipate, but it gives a good general idea.  Much like a traffic light, red means "stop – high danger"  (beyond that is extreme/black, which is rare), and green is "go – low danger," which makes it easy to figure out. 
The avalanche rose in action on a daily UAC forecast: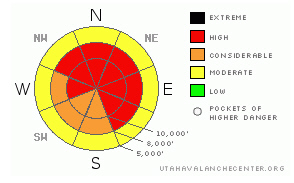 ________________________________
Help support StraightChuter.com and know your exact elevation with a Suunto Core Altimeter Watch from Backcountry.com! Click on the photo below…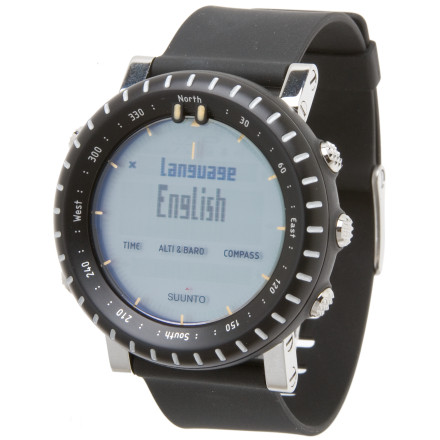 Category: 07 Avalanche Avoidance