When I first got into backcountry skiing in the Wasatch, people were always referring to runs that were "in the book," which unfortunately was out of print. You either had one, went skiing with someone who did, or figured it out on your own. I'd given up hope of ever getting a copy of the book, until one day my Great Uncle gave me his copy with a typewritten note in it: "…the risk of avalanches terrifies me so I'm not sure if you ought to have this or not.  It worries me!  Please don't take chances!  Bruce"  Ironically, Uncle Bruce lived a full life of hiking and skiing in the mountains only to be run over in a crosswalk soon after moving into a retirement home in Salt Lake City.
I started touring on the See'm & Ski'em program which involved wandering around until you saw something to ski, and then go do it.  The first thing that caught my eye when I finally saw "Wasatch Tours" was all of the beautiful aerial photos with routes named "A."  These always looked like the choice lines and I assumed there were routes B, C and D elsewhere in the book, but in fact the authors, Alexis Kelner and David Hanscom, were marking known avalanche paths.
During an early outing in Cardiac Bowl, Dave Hanscom's touring party triggered a huge avalanche which caught and carried a member of their group, who luckily survived.  This was pre beacons, and in a large part, before avalanche eduction even got started. As such, a major impetus of "Wasatch Tours" was to identify, and thus avoid, known avalanche paths.  By the time I got my hands on a copy, the prevailing attitude had swung 180 degrees with a friend telling me "Look for the "A's" – that's the best skiing."   I was thinking of this progression (?) the other day when I read a Powder Magazine article on Extreme Skiing which said the the future of the sport finding big, steep lines and skiing them in deep snow, as fast as possible.  Time will tell, but meanwhile, Kelner and Hanscomb are still very much alive and still skiing.
In 1993, Kelner & Hascomb updated and expanded Wasatch Tours into a three book series which is still the bible of backcountry skiing in the Wasatch. Before that, Alexis Kelner was very involved with proposing the Lone Peak and Mt. Olympus Wilderness areas, and getting them passed. Every time I skin by one of those wooden signs marking the boundaries of these fantastic resources I say a quiet "Thanks Alexis!"  Alexis and two other friends later went on to form the conservation group "Save Our Canyons" which has been an instrumental voice in protecting the mountains, water and environment that makes the Salt Lake area such an attractive place to live.  Save Our Canyons is still going strong 37+ years later.
________________________________
Help support StraightChuter.com and ski the "A" zones with an Ortovox S1 Tour Deluxe Package from Backcountry.com. Click on the photo below…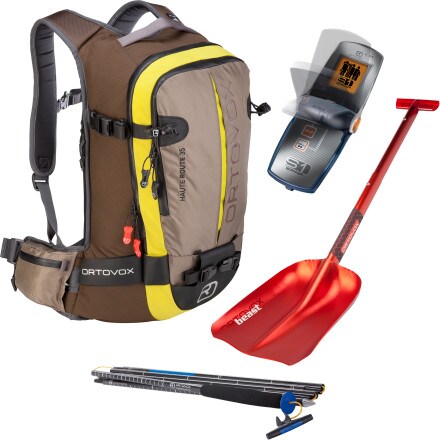 Category: Commentary, Random