Forget avalanches, tree wells, blinding snow storms or helicopters dropping bombs on you – one of the scariest parts of skiing in Cardiac Bowl (upper Mill D drainage) is coming across the enraged snowmobilers.  But you say, I thought this entire area was non motorized, except of course for helicopters?  It is, at least for recreation, but private property owners in the area have a right to access their land, and some of them choose to do so on snowmobiles.
What makes this an especially frustrating situation is that the landowners will often times tell people they are trespassing and to get out, then they will proceed to high-mark every inch of the drainage as if it all belonged to them, which it doesn't. The landowners are allowed to access their land and to ride on their land, but they are not supposed to ride off their property, nor are they suppose invite their friends to do so. There is no such thing as a "Golden Pass" to ride there.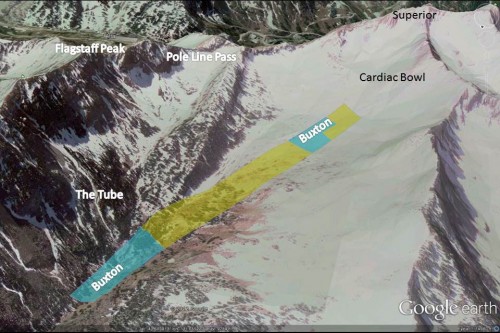 This shaded area in the bottom of the Cardiac Bowl area is all private property and owned by a variety of people.
The strip of private property shown in the shaded area above is but one little chunk of private property in Mill D, but it is often the most contentious. In a letter from Cathy Kahlow, the District Ranger, she wrote:
Some private landowners have a permit to go to and from their property on motorized vehicles.  They have permission only to ride on the underlying road base on NFS to their property and then they can ride on their property.  They do not have authorization to ride motor vehicles on NFS outside their ingress and egress route.  We are working with the landowners to also allow public non-motorized access across private land to and from NFS for skiing, hiking etc.  Public motorized use is not/will not be authorized since the area is closed to motorized vehicle travel.

Once this new agreement between the FS and land owners is in place we will be providing a map that shows where the public may cross pvt land and where the private land owners may drive. Hopefully any day now…we will post this info at PLIC at REI, on the Avalanche Forecast site and Black Diamond, etc.  Thanks for checking in with us.
Steve Scheid of the Salt Lake RD, Uintia-Wasatch-Cache NF sent along this map which shows the private property in-holdings in Mill D.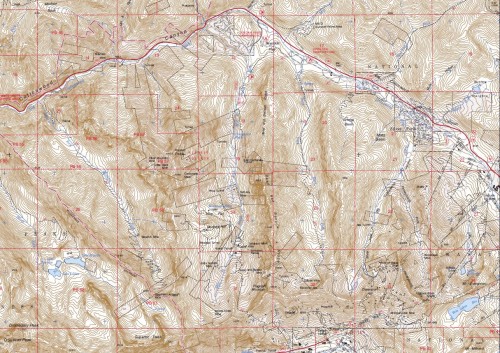 Click here to download the 13mb pdf version of this map.
According to Steve, the Forest Service is "preparing a map that identifies the designated route for the permittees to use for access to their private land and will post/distribute once the permits (one for private landowners across NFS land and another from private landowners for Forest Service and public access across private lands) are signed."  Until then, he urged continued cooperation, communication and mutual respect on everyone's part.
________________________________
Help support StraightChuter.com and plot your crossings with a Garmin eTrex Vista H from Backcountry.com. Click on the photo below…

Category: Wasatch Mountains