Stomping cornices is by far and away my favorite and most used snow stability assessment technique.  Test slopes are a close second, but there is a lot to be learned from dropping a big fat ol' cornice directly onto a loaded slope and seeing what happens.  I like cornice stomping as it is something you can do on the fly as you are skinning along, plus it is perversely satisfying in a pyromania like of way. Cornholiomania perhaps.
If the slope below the cornice has little to no consequences, I'll usually go right up to it and start stomping.  I've taken a few rides, but if it is a mellow little slope, it is almost more like cow-tipping and the learning experience is well worth it.  If the slope is more dangerous (longer, trees, terrain traps, etc), I'll hold onto a partner's poles or approach it more cautiously.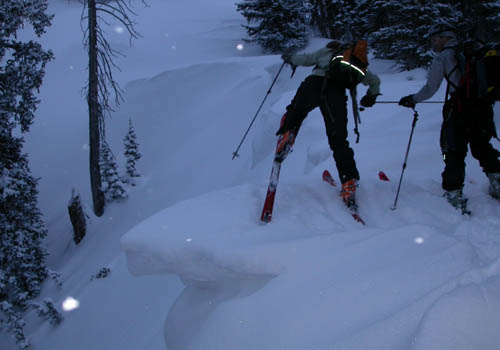 How a cornice first fractures tells you a lot about the snow.  In the photo below, the long shooting cracks are a sign of a brittle snow structure (at least on the cornice) which to me means to look out for stiff soft slabs below.
One of the biggest cornice surprises I've ever had occurred at the crest of Wolverine Cirque on a morning when the wind was howling.  We knew that the Cirque was going to be loaded and didn't intend to ski it, but on the way over to take a look at it, a cornice the size of a semi-truck exploded right under my ski tips a good 20′ back from the edge.  We turned tail and went down the windward side, which turned out to be almost as treacherous as the wind had packed in little pockets that kept ripping out magic-carpet style and sending us for rides.
Backcountry etiquette dictates that you are suppose to just break a few cornices and leave the rest for later, or another party.  This can be easier said than done as stomping benders are hard to stop until you finally snap out of it in a "Whoa, dude, what did I just do?" moment half a mile later, as Sir Stompalot demonstrates in the photo below.  Go dog go!
A few years ago I had a chance to go out with the Solitude Patrol on their morning rounds and it was interesting to see that cornice abatement was one of their main strategies.  They'd start with stomping, then get into shoveling if need be, and if none of that worked, they'd break out the dynamite.
________________________________
Help support StraightChuter.com and get into the stomping spirit with a pair of Scarpa Spirit 4 Alpine Touring Boots from Backcountry.com. Click on the photo below…
Category: 07 Avalanche Avoidance