After many hours of modifying adult touring gear to work for for my kids, I recently found a much better solution; the Contour "Start Up" Touring Adapter. The basic idea is the same as the old BCA "Alpine Trekker" which is a hinged plate that clamps onto your alpine boot and then fits into your alpine bindings. The Alpine Trekker didn't work very well compared to a full-on touring set up, but for kids the Contour Start Up is brilliant.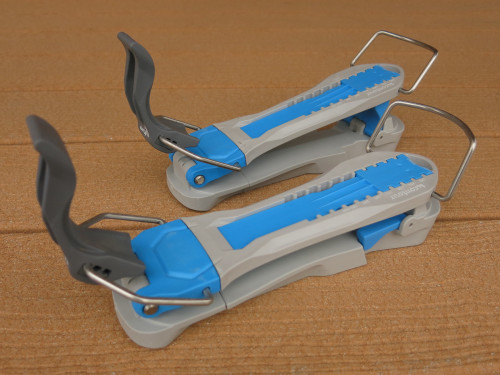 One immediate problem I found with modifying adult gear is that boots come in "kids," "junior" and "adult" sizes, so you can only get a kids boot to fit into an adult binding with lots of jingus shimming. Then, the adult bindings tend to only go down to about DIN 4, and my kids are in the 2.0 range, so the release settings are way off.  All in all, modifying adult touring gear worked, but it wasn't great.
The Contour "Start Up" Touring Adapters however are very well thought out and so easy to use the kids can get into and out of them all by themselves.  They feature tool free adjustment, but that is assuming you have steel fingers and a vise-like grip.  In reality, I found a screw driver was helpful.  The parts are beautifully molded, have a nice smooth action and fold down to a very small package.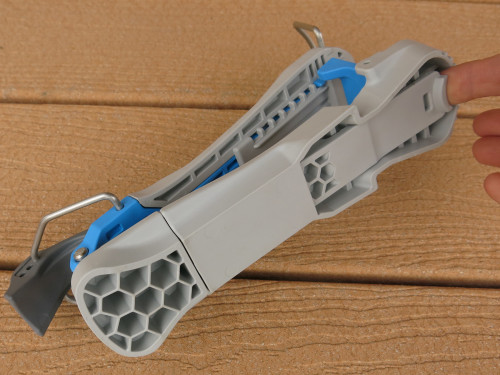 Tool free adjustment – at least in theory.  A screw driver and pair of large pliers helps.
The adapters adjust from a 245mm sole up to a 305mm, so they will last for many years of growth.  While this is not a great system for long tours, I think its real value is that it provides a quick, easy and safe way to introduce kids to the backcountry.  So far our tours have involved about 300′ of climbing (over an hour…) and its nice that the kids can then clip into their own skis for the trip down.  There is a single easy to activate climbing peg.  For the boots, I unbuckle the top and they seem to work fine.  For skins, I used an old pair of straight and skinny skins with rubber-snubber tip loops.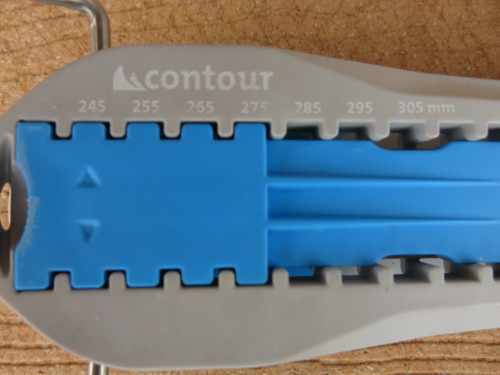 The Start Up adjusts from 245mm to 305mm boots.
In the USA, the Start Ups are available through CAMP USA and I've heard you can also order them from Europe.  The suggested retail is $149.50 per pair and due to the unexpected popularity, supplies may be limited.
________________________________
Help support StraightChuter.com and bribe those kids uphill with a package of Sport Beans Energizing Jelly Beans  from Backcountry.com. Click on the photo below.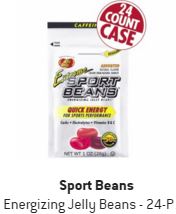 Category: Gear Reviews