Memorial Day in Utah goes a long ways toward easing the pain of triple digit temps here in Ahhhgust.  I can't remember a Memorial Day with bad weather, but then again my memory is so bad that that's not saying much. In any case, you can ski, climb, bike, hike, fish or mix & match just about anything this time of year.
Geoff Tabin took a break from saving entire countries from blindness and along with Huckleberry, invited me out for a lap on the Cold Fusion Couloir off of Mt. Timpanogos. Cold Fusion is a beauty of a line off of the NE side of Timp that holds snow well into the Spring.  It's fun in many regards, but especially cool as you are skiing on a ribbon of snow surrounded by the rocks of American Fork Canyon along with big vista views of the Salt Lake Valley below.
The line was originally known as "The Forked Tongue Couloir" but was later renamed (at least by some people) to memorialize the theory of cold fusion which has strong ties to the University of Utah and Brigham Young University.
Since the road leading to Cold Fusion goes right through American Fork Canyon, it's fun to catch a quick route on the way out.  After the four-mile approach to go skiing, the four-meter approach to go climbing is much appreciated.
________________________________
Help support StraightChuter.com and clip into the shining path with a Black Diamond LiveWire Quickdraw from Backcountry.com. Click on the photo below…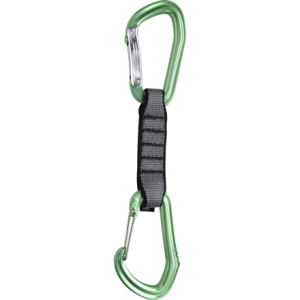 Category: Trip Reports